Cyprus, Gateway to Paul's Missionary Journeys
Many departure dates year round.
Request a Quote
Click on the tabs for more information
Price Per person double occupancy
Dates
Hotel,
Meals,
Transfers
Early
Reservation
Discount
(4 Mo. Adv.)
Available for parties of 10 or more.
2 Nights
$248
$188
3 Nights
$302
$218

Single Supplement:

Year-round: $59 (2 nights), $89 (3 nights)

Ask About Special Rates for Pastors, Christian Educators, & Custom Groups of All Sizes. No Obligation Group Quotation - Click Here
Click here for "Frequently Asked Questions"
Two Night Package - First class (4 Star) sea view lodging, two breakfasts, two dinners, modern transportation.

Three Night Package - First class (4 Star) sea view lodging, three breakfasts, three dinners, modern transportation. Please note that when sightseeing package is included, last night will be in Larnica.

Not Included: Air travel, cancellation insurance, gratuities, and transfers (not included unless airfare is purchased from Pilgrim Tours).
Sightseeing Package Includes: modern motorcoach, expert guide, admissions and dinner on last day.
This package will be made available when 10 or more persons have requested it for the same date. Smaller parties can arrange for sightseeing at an increased cost.
Airport transfers are included only when airfare is purchased from Pilgrim Tours. Taxi service is available for those purchasing their airfare elsewhere.
CYPRUS INTRODUCTION


Many exciting things happened in Cyprus during the days of the Early Church. As in other Greek lands, mythology, pagan beliefs and the philosophical systems of the Roman Empire wrestled for the hearts of man.

The island became a refuge for Jewish believers following the martyrdom of Steven (Acts 8). These believers openly shared the gift of faith to the Cypriot Jewish community and the Greek gentiles. Given the many merchants who traded and sailed in and out of Cyprus, the Gospel of Jesus Christ of Nazareth was preached throughout the eastern Mediterranean trade routes including nearby Tarsus and Antioch. The fruit of their boldness was miraculous, so much so that the Church of Jerusalem sent Barnabas to Antioch and then on to Tarsus to look for Saul. (Acts 11) When he found him, he brought him to Antioch. It is thought that there were many converts in Antioch and Cyprus who confronted Paul regarding his heavy hand of persecution.

Perhaps Barnabas and Saul chose Cyprus because it was Barnabas' home or because there were large Jewish communities on the island. Barnabas was given the name "son of encouragement" (Acts 4:36) because he sold property on Cyprus in order to fund the spread of the gospel message. It was here that Saul was first referred to as "Paul," (Acts 13:9) a Hellenized version of the Hebrew name, in order to help target the Greco-Roman audience for Christ. John Mark was also in their company while in Cyprus.

This island is a wealth of beauty, archeology, Byzantine art and Biblical and Early Church history.
Click on the days below for more information.
Day 1: Arrive in Cyprus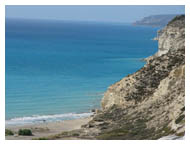 Today we arrive in Larnica and embark on our Journey to the lands of ancient treasures and Christian history, we will be walking where the apostles walked! We transfer to a lovely ocean-front hotel for dinner and our lodging for the evening.
Day 2: Paphos, Roman Capital of Cyprus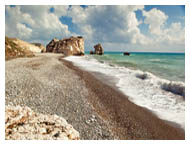 All sites visited in Paphos today are included in the official UNESCO List of Cultural Heritage. Paphos was the Roman capital of Cyprus and it was there, after seeing God perform a miracle through Paul, that the Proconsul Sergius Paulus was converted to Christianity in 47 AD. Cyprus was the first area to be ruled by a Christian. Our first stop is at the Pillar of St. Paul where the Apostle was bound and flogged. It is surrounded by the remnants of an early Christian basilica constructed in the 4th Century. The tour proceeds to the colorful and evocative Roman mosaics depicting mythological scenes mostly from the 3rd Century AD. The tour continues to the Tomb of the Kings - an ancient necropolis carved out of solid rock and given this regal name because of its imposing character. These underground pillared atria and chambers served as refuge for Christians during early persecutions. The next stop is the Monastery of St Neophytos. In 1159 a monk by the name of Neophytos cut this hermitage in the rock with his own hand. The Neophytos Rock-Grotto contains fine frescoes from the 12th to 15th Century. En route back to Limassol there is a photostop at Petra Tou Romiou, a chunky, rugged rock that marks the legendary birthplace of Aphrodite, ancient Goddess of Love and Beauty. Cyprus was an important pilgrimage centre during Ancient times for the worship of this Goddess. We return to Limossol for dinner and the evening.
Day 3: Biblical Port of Salamis, Church of Cyprus, Lazarus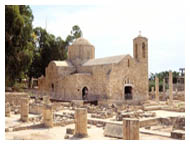 We begin our tour today with the city where Paul & Barnabas began their ministry in Cyprus, the port city that they sailed to from Jaffa. (Acts 13:5) Biblical Salamis was a maritime town on the eastern coast of Cyprus, situated at the end of a fertile plain between two mountains. Its fine harbor, its location, and fortifications made it the chief city of the island. When St. Paul landed at Salamis with Barnabas and met John Mark, there were several synagogues, and it was here that they began their witness to the island. Although the date, place, and circumstances of his death are, as yet, historically unverifiable, Christian tradition holds that Barnabas was martyred at Salamis in 61 AD. He is traditionally identified as the founder of the Cypriot Church. We visit the Roman ruins and the church and monastery where Varnavas, the founder of the church of Cyprus is buried. Continuing on to Larnaca, we visit the Panagia Angeloktisiti, the oldest known church in Cyprus dating back to the 6th century. Another stop will be made to view the traditional Tomb of Lazarus. Again, tradition says that Mary and Martha visited Lazarus in Larnaca. Free time will be allowed along the lovely Palm tree promenade before dinner.
Private groups can include additional days at a very reasonable cost.