Peru - Machu Picchu, Lima & Cuzco & Amazon Eco Adventure 11 Day Tour
Year-round
Request a Quote
Click on the tabs for more information
Price Per person double occupancy
Dates
Land Only
No Transfers

This is only a sample itinerary. Ask about custom tour planning from one of our experts.

Please Call us at 800.322.0788 or fill out a request form above for dates/pricing.
Click here for "Frequently Asked Questions"
Price Includes: All motor coach and land transportation, sightseeing, admissions, services of tour director and driver, lodging, meals as specified in tour itinerary, taxes, gratuities to bellhops and waiters at included meals.
Not Included: Cost of obtaining passports or visas, laundry, meals, beverages or sightseeing not included in the itinerary, travel insurance, gratuity to guide, driver, communication charges, & excess baggage fees. Port charges and gratuities to crew are not included on cruises.
Day 1: Depart USA to Lima
Upon arrival, you will be transferred to your hotel.
Day 2: Free day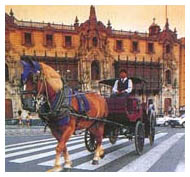 Free day to rest with lunch at the hotel. You will enjoy a welcome dinner and folkloric show in the evening. (B, L, D)
Day 3: Lima
In the morning, you will have a city tour of Lima. You will visit downtown Lima and see several examples of the Spanish architecture of the colonial period including the Plaza de Armas, the Presidential Palace, the Cathedral, and the Church of San Francisco and Catacombs. After that, you will see Huaca Huallamarca, a restored adobe pyramid dating from the pre-Inca period located in San Isidro. You will tour the upscale residential and commercial district of Miraflores and see the Parque del Amor, a seaside park with a huge statue of a kissing couple, before returning to your hotel. After lunch, you will visit the Gold Museum. Dinner at hotel. (B, L, D)
Day 4: Cusco
Early morning transfer to the airport for your flight to Cusco. Upon arrival, you will be transferred to your hotel. Because of the high altitude (10,660 feet above sea level), we recommend that you rest for a short period. After lunch, you will have a city tour that includes a walk through the Cathedral, the Koricancha ('site of gold'), typical streets, and the four ruins that surround the city: the Sacsayhuaman Fortress, Kenko, Puca Pucara, and Tampumachay. Dinner and folkloric show. (B,L,D)
Day 5: Full-day excursion to the Sacred Valley
You will visit the Pisac ruins and the fortress of Ollantaytambo. Transfer to your hotel in Sacred Valley. Dinner at hotel. (B, L, D)
Day 6: Machu Picchu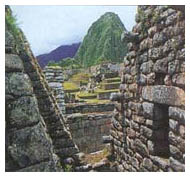 Early morning transfer to the train station for the ride to Machu Picchu, 'the Lost City of the Incas' (7,900 ft.). This mountaintop citadel, which served as both a center of worship and an astronomic observatory, is located in the middle of the cloud forest overlooking the Urubamba River. There are both agricultural and urban areas constructed with the precision stonework that the Incas are known for. The agricultural area consists of terraces and food storehouses, and the urban area contains temples, squares, and royal tombs. Guided tour followed by lunch. In the afternoon, you will be transferred to your hotel. Dinner at hotel. (B,L, D)
Day 7: Free Time
This morning, you will come back to Machu Picchu or you can visit the hot springs of Aguas Calientes. After lunch, you will depart Machu Picchu for the return train ride to Cusco. Dinner at hotel. (B, L, D)
Day 8: Return Home
Early morning transfer to the airport for your flight back to Lima and USA or Puerto Maldonado for your extension to the Amazon rainforest. (B)
Amazon Extension - 4 Day/3 Nights
Day 8: Puerto Maldonado - River Adventure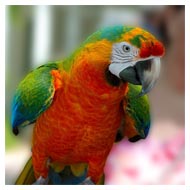 Upon arrival from Cusco, reception and transfer to the Tambopata river port in Puerto Maldonado. Puerto Maldonado is situated at the confluence of the mighty Madre de Dios and Tambopata Rivers and is a bustling, booming tropical frontier town. Its principal activities are gold mining, Brazil nut collecting, timber extraction, agriculture, and ecotourism. After a brief survey of the town we will depart on the two hour boat trip by motorized canoe to our hotel. During our voyage we may see bird species typical of the river or forest edge such as: Black Skimmer, Pied Lapwing, Capped Heron, Jabiru Stork, Roadside Hawk, and several species of kingfishers, swallows, and flycatchers. When we arrive at the hotel we will receive a briefing on the lodge and the Ecotourism Project before our afternoon activity - the canopy tower. In this activity, we will visit a 115 foot high scaffolding tower that is a 15 minute walk from the lodge. The scaffolding tower is built so that you safely climb using the internal staircase with verandahs on each side, and rest in platforms present every seven feet. From the top you not only get spectacular views of the river and the surrounding forest but also excellent opportunities to observe birds from the canopy including parrots, toucans, and macaws. A video about the forest of Tambopata will be displayed after dinner. (B,L,D)
Day 9: Lake Cruise - Botanical Center
We will be up at dawn for a visit to the Tres Chimbadas oxbow lake. After an early breakfast we depart, 15 minutes by boat and a 30 minute walk to the lake shore. From here, we take a long, easy canoe ride around it. We will look for giant river otters (a resident family of nine), turtles, hoatzin, and wading birds. Then we will return to the lodge for lunch before embarking on our afternoon outing to the community's ethno botanical center. From this little shop, the community has been registering the uses of medicinal plants from elders, and planting, producing, and distributing them for over ten years. We will walk the trails around the center with one of the residents who will explain to us the everyday uses of forest resources in medicine, construction, food, and fiber. We will return to hotel for dinner and overnight. This evening you may choose an optional night walk to look for amphibians and insects. (B,L,D)
Day 10: Macaws, Parrots & Parakeets
After an early breakfast, we will visit a clay lick. This clay lick is a ten minute walk from the lodge, next to the river. Amazingly, the variety of parrots that visit this clay lick is considerably different than the one inside the forest that we will visit later in the day. Some of the large macaws, like the red and green macaw, and larger parrots, like mealy and yellow crowned Amazons, visit this lick, as well as the smaller parrots and parakeets. From the blind we have constructed next to this lick, even the amateur photographer can take good pictures of these wonderful birds. We will also have a great opportunity to spot other spectacular wildlife, active at this time of the day, like scarlet or blue and gold macaws, and a great deal of other birds. When the activity dies down, we will visit a small parakeet clay lick that is a 45 minute walk away. Dozens and sometimes hundreds of Blue Headed Parrots, Orange-Cheeked Parrots, Cobalt-Winged Parakeets, and sometimes even the rare Rock Parakeet, congregate here on clear days to ingest clay. This congregation creates a riotous and colorful wildlife spectacle where the greens, oranges, reds and blues of the parrots dance around the bank as each individual parrot competes for their choice beakful of clay. After lunch, our naturalist guide will explain general aspects of rain forest ecology and natural history, each with their own contrasting viewpoint. We will return to the hotel where you will be able to reminisce on the happenings of the past three days, enjoying with a tropical beverage list of Amazonian concoctions. (B,L,D)
Day 11: Return Home
After an early breakfast, we depart by boat back to the city of Puerto Maldonado, directly to the airport, in time for our flight back to Lima and USA. (B)