Poland's Castles & Palaces
12 Day Package
April - November
Click on the tabs for more information
Price Per person double occupancy
Dates
Request a quote or call 800-322-0788 for more information.
Price Includes: First class accommodation with private bath or shower, Meals as per itinerary (B - breakfast, L - lunch, D - dinner), Comprehensive sightseeing program as indicated, Transportation within Poland, Services of English speaking guide, Porterage of 2 pieces of luggage per person, Hotel charges and taxes
Deposit Required: $300 per person will reserve your place. A $100 service fee will be charged for cancellation at any time in addition to our normal payment and cancellation policy.
Day 1: Depart for Warsaw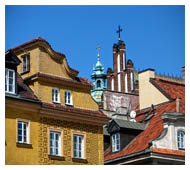 Overnight departure to Warsaw.
Day 2: Arrive in Warsaw
You'll be met at the airport and transferred to the Grand Hotel. The whole day is yours to enjoy by relaxing or exploring the city. Meet with your guide in the lobby at 6:00 PM for the dinner at local restaurant with folk performance. Overnight at hotel Grand. (D)
Day 3: Royal, Nieborow & Pultusk Casltes
Morning city tour of Warsaw starts with the magnificently rebuilt Royal Castle. Lunch enroute, then to Nieborow, a Baroque palace with exquisite French gardens and an English landscape park. Dinner and overnight at Pultusk castle. (B,L,D)
Day 4: Lidzbark Warminski, Frombork & Malbork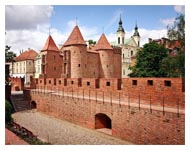 Depart for Lidzbark Warminski to see the best-surviving castle of the Warmia region as well as the 14th century fortified Gothic cathedral at Frombork, where the famed astronomer Copernicus spent the latter part of his life. Dinner and overnight at the imposing medieval fortress of Malbork, built by the crusading Teutonic Knights which held sway over the region centuries ago. (B,D)
Day 5: Malbork Castle, Biskupin & Rydzyna Castle
Morning exploration of Malbork castle, then drive to Biskupin where a tribe of the ancient Lusatian culture built a fortified Iron Age settlement over 2,300 years ago. Dinner and overnight at Rydzyna Castle. (B,L,D)
Day 6: Jasna Gora & The Black Madonna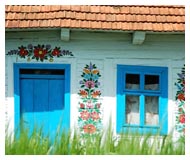 Morning departure for Czestochowa. In the afternoon you will visit the monastery fortress of Jasna Gora, Poland's national shrine and home to the Black Madonna, a sacred icon that attracts pilgrims from all over the world. Overnight at the Hotel Patria in Czestochowa. (B,L)
Day 7: Pieskowa Skala & Ojcowski National Park
Drive via Olsztyn for Pieskowa Skala, a mountaintop castle at Pieskowa Skala. This early Renaissance structure lies at the northern end of Ojcowski National Park - a majestic setting for lunch. Overnight in Krakow. (B,L,D)
Day 8: Wawel Hill, Cloth Hall & St. Mary's Church
Today you journey to Wawel Hill, the seat of Poland's monarchy for over 500 years. Exquisite tapestries, coronation swords and silver altarpieces are but some of the treasures that fill the opulent chambers of the Renaissance castle and cathedral. The city tour includes Europe's largest medieval market square, the Cloth Hall, and Wit Stwosz's masterpiece carvings at St. Mary's Church. Afternoon free for private explorations. Overnight and dinner with entertainment in Krakow. (B,D)
Day 9: Wisnicz & Baranow Sandomierski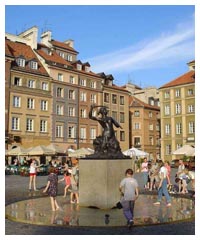 Depart for Wisnicz, the home of bygone patron Stanislaw Lubomirski. Continue to Lancut, whose carefully restored interiors are the perfect backdrop for one of the most diverse art collections in Poland today. Overnight at the Renaissance castle at Baranow Sandomierski, now a museum richly decorated with murals and stucco work. And bring your appetite - this is where you experience a sumptuous old-style feast known as a ''Biesiada,'' a favorite of Poland's royalty. (B,L,D)
Day 10: Baranow Castle & Krzyztopor
After the morning tour of Baranow castle, depart for Krzyztopor, whose formidable ruins date back to the 17th century. Before France built Versailles, it was the largest official residence in Europe. Dinner and overnight at hotel Grand in Warsaw. (B,L)
Day 11: Wilanow Palace
This morning you visit Wilanow Palace, often hailed as the ''Polish Versailles.'' Set among stately English and French gardens, the building's interiors are ornately decorated with treasures of the Italian, French and Polish Baroque. Afternoon free for private explorations. Farewell dinner and overnight at hotel Grand. (B,D)
Day 12: Depart for Home
After breakfast, transfer to the airport for the return flight back home. (B)