Malta European Hideaway
9 Day Package
Departures Available Daily
Click on the tabs for more information
Price Per person double occupancy
Dates
Request a quote or call 800-322-0788 for more information.
Price Includes: All motor coach and land transportation, sightseeing, admissions, services of tour director and driver, lodging, meals as specified in tour itinerary, taxes, gratuities to bellhops and waiters at included meals.
Not Included: Cost of obtaining passports or visas, laundry, meals, beverages or sightseeing not included in the itinerary, travel insurance, gratuity to guide, driver, communication charges, & excess baggage fees. Port charges and gratuities to crew are not included on cruises.
Deposit Required: $300 per person will reserve your place. A $100 service fee will be charged for cancellation at any time in addition to our normal payment and cancellation policy.
MALTA INTRODUCTION
Malta, located just off the coast of Sicily, is a favorite vacation spot for Europeans, especially the Brits. The people are English speaking and extremely hospitable. The island is a treasure chest of antiquities, picturesque villages and scenic landscapes - all at an unbelievable price.
Day 1: Departure
Relax on our night flight to Malta.
Day 2: Beautiful Malta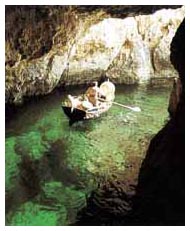 We arrive at our Mediterranean paradise and are greeted by our tour host during our stay. We begin with a brief tour en route to the hotel, then free time to explore on your own before a lovely dinner.
Day 3: Blue Grotto & Temples
Discover the Southern part of Malta. After having visited the fishing villages of Marsaxlokk and Birzebbugia we proceed to the fabled Blue Grotto where there will be the possibility of admiring the grottoes from close by. (Boat price not included - weather permitting). Lunch is then served in one of the villages nearby. After lunch you will visit the famous Tarxien temples - a group of three temples, which portray the skill and artistic abilities of our forefathers. The day will come to an end when guided through the cave of Ghar Dalam, one of the first habitats of these islands.
Day 4: Gozo Heritage
Tour to Malta's sister island of Gozo. After a twenty-minute crossing, on setting foot in Gozo you will notice that although both islands are similar in history and development Gozo has a character entirely of its own. Gozo, which is a three-hilled island, is greener and more picturesque than Malta. During this excursion, you shall visit the temples of Ggantija, the citadel in Victoria, the bay of Xlendi, and calypso's cave. Free time for shopping will also be given - Gozo is well known for its woolen goods and handmade lace.
Day 5: Free Day/ Harbor Cruise/Sunday Special Cruise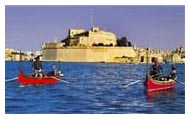 Harbor Cruise - A detailed commentary will unfold the history of Valletta and the Three Cities connected with two Great Sieges of 1565 and 1942, as well as all the other places of interest including the historical forts, battlements and creeks which can only be admired from the sea. Captain Morgan's Harbor Cruise is renowned for its detailed commentary. We cruise into every creek showing you the closest possible views. A refreshments and toilet facilities are available on board.

Sunday Special Cruise - The day starts as you are driven to the Valletta Market, where you can spend about an hour amongst the hustle and bustle of buyers and sellers...wheelers and dealers all looking for the best bargains ever. After visiting the market you will then board your transport and continue on your drive around Valletta's historical Bastions in order to give you a close view of what it must have been like for the knights to defend the City from behind the walls. Then you will leave Valletta to go to Sliema to board a harbor cruise. Whilst cruising our guide will explain the history of the Three Cities connected with the Great Siege of 1565 and 1942, and all other places of interest including the historical forts, battlements and creeks, which can only be admired from the sea. Lunch is served in one of the creeks in the Grand Harbor. After lunch we cruise back to Sliema, where we proceed to Marsa Race Course (Entrance included) to spend the rest of the afternoon at the Horse Races.
Day 6: Sicily or Valletta & Malta Experience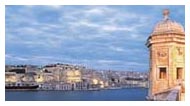 Sicily Day Tour - The tour involves an early morning transfer, a modern Catamaran to Sicily, docking at Pozzallo where we are met by a local motor coach and guide. The scenic route begins by crossing over the 2nd and 3rd highest bridges in Europe, which pass over the baroque town of Modica. We move to the Iblei Mountain range with views of quaint tile roof villages among panoramic canyons. Continuing our drive up to the Sylvester craters of Mount Etna, allow for free time for photos and souvenirs, then on to Taormina, Sicily's beautiful yachting center. After a tour and free time, our guided tour continues back to the Catamaran for the high - speed ship back to Malta.

Valletta & Malta Experience - This guided tour through the bustling streets of Valletta will first take you to see the Barracca Gardens, from which you could admire, a great panorama of the Grand Harbor. You will then visit St. John's Co-Cathedral a place adorned in riches that date back to the times of the Knights of Malta. After this there will be a visit to the Grand Master's Palace, where you can see the staterooms. Lastly we stop at the Malta Experience, a multi-vision show that depicts Malta's history throughout the ages.
Day 7: Mdina Medieval Walled City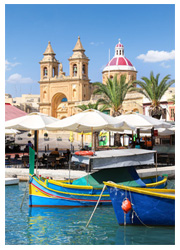 Today's excursion will take you to the central part of Malta that is dominated by the ancient citadel of Mdina. On passing through the narrow streets of Mdina, the 'silent city', you shall admire the cathedral and the imposing bastions that command a magnificent view of most of the island. On leaving Mdina through the 'Greek Gate' you shall stop by at the catacombs before proceeding to the cliffs at Dingli. After lunch visits to the botanic gardens of San Anton and the impressive dome of Mosta's parish church are included besides the crafts center at Ta'Qali, where you shall be given time for shopping.
Day 8: Three Cities Tour
Discover the historical area known as the three cities: Vittoriosa, Cospicua, & Senglea. A drive past Cospicua will bring you to Vittoriosa where you shall walk through the various narrow streets shaded by many historic buildings and churches. From the old quay you shall take a typical harbor 'fregatina' for a tour of the famous harbor creeks. In Senglea you will be able to have a look from the beautiful 'vedette' placed in the center of the Grand Harbor.
Day 9: Homeward
Our transatlantic flight will bring us home to one of our ports by late afternoon.