Best of Italy Christian
10 Day Inspirational Tour
New Christian Tours for 2023 - click "blue button" below
Amalfi, Rome 8 Day
Rome to Venice 9 Day
Amalfi to Venice 12 Day
Click on the tabs for more information
Price Per person double occupancy
Dates
Request a quote or call 800-322-0788 for more information.
Ask About Special Rates for Pastors, Christian Educators, & Custom Groups of All Sizes. No Obligation Group Quotation - Click Here
Click here for "Frequently Asked Questions"
Price Includes: 8 nights at 4 star hotels, breakfast daily, 1 lunch, 4 dinners, luggage handling (1 piece) at hotels, expert guide, all entrances.
Not Included: Gratuities, airfare, 7 lunches, 4 dinners, transfers (not included unless airfare is purchased from Pilgrim Tours).
Deposit Required: $300 per person will reserve your place. A $100 service fee will be charged for cancellation at any time in addition to our normal payment and cancellation policy.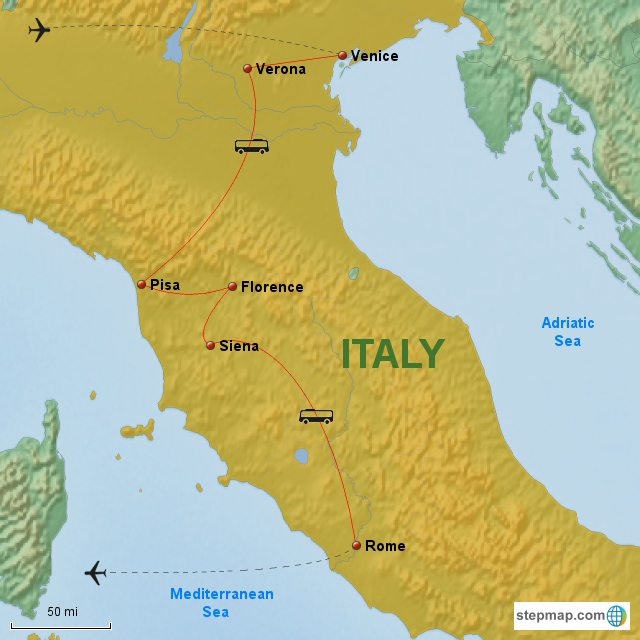 Day 1: Depart USA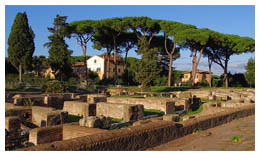 Overnight flight to Italy.
Day 2: Arrival, Ostia Antica
Those who arrive in the morning will visit the ruins of Ostia Antica, which provides an excellent example of city life in classical times and the Ostian Gate, today called the Gate of St. Paul. The city is along the ancient road (Appian Way) to Rome traveled by Paul and others coming from the sea. Those arriving on late flights may meet us at our hotel for our evening meal. Overnight: Ostia Lido. B,D
Day 3: Sperlonga, Pozzouli Harbor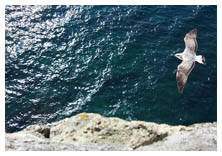 Departing our hotel after breakfast, we will explore the New Testament record of Emperors Augustus and Tiberius at Sperlonga. Since Saul of Tarsus was a Roman, we will introduce his life and ministry when stopping to visit the excavations at Minturno, a Roman town known to Paul and his companions. We will travel on to the legendary area of the Flegrean Fields, where we will grapple with Roman cultic practices and ideology. Our day will end in Pozzuoli, the harbor city where Paul first stepped onto the Italian Peninsula (Acts 28:13). Overnight: Pozzuoli or Naples. B,D
Day 4: Naples, Pompeii, Sorrento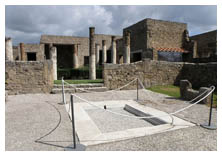 From the port city, we travel the through the land with emphasis on daily life at the time of Paul. We visit the Naples Museum The museum contains a large collection of Roman artifacts from the eruption of Mt. Vesuvius in 79 BC. This afternoon we view the excavations at Herculaneum, then tour Pompeii as our guide takes us on an archeological journey through the ancient city, buried under a layer of ashes and pyroclastic flow by a sudden eruption. After 1700 years the excavations have brought to light a town whose daily life of the Imperial Age has been petrified. Visiting the "frozen city" would create a feeling similar to that experienced by Apostle Paul when he walked through similar streets from his time period. Overnight: Sorrento. B
Day 5: Free Time, Sorrento, Capri, Amalfi Coast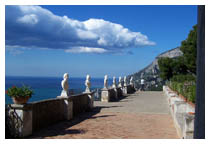 To understand the political world of Rome and its impact on the New Testament story, some may want to take a small vessel from Sorrento to the island of Capri (for its opulent shopping, or to trek up to where Emperor Tiberius ran the entire Empire for a time (Villa Jovis) during the ministry of Jesus. (Cost is about fifty euros.) Others will prefer to remain in Sorrento and explore (or even shop!) in one of Europe's most exclusive and fun destinations! Of course, one could elect to arrange a tour to the beautiful Amalfi coast as well. A dinner theater with local music and Italian culture is included this evening. Overnight: Sorrento. B,D
Day 6: First Century Culture, Villas & Philosophers
Today we will touch Paul's life by examining artifacts taken from homes at his time, as well as visiting villas of people who were his contemporaries! At impressive sites we will discuss the popular philosophers of the time and become familiar with some of the more attractive pagan rites of his contemporary culture. We will also begin our discussion of the Gospel taking Rome while it adopted many Roman marks of ideology. Overnight: Latina. B,D
Day 7: Rome, A Spectacular Civilization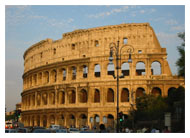 Rome was held together as much by spectacle and entertainment as by anything else. After a panorama of Rome by bus and free time for lunch, we take part in a walking tour of the ancient Roman Forum, where our guide will divulge its secrets. We will visit the Arch of Titus which commemorated the sack of Jerusalem by Titus in AD 70. We will view the Mamertine Prison exterior, where tradition says the Apostle Paul was imprisoned. Next, we visit the Coliseum, where thousands of people and animals perished during gladiatorial games. The Coliseum first opened in AD 80 and within 100 days of its opening, 5000 wild beasts perished here. Historians believe the Coliseum could hold between 40,000 and 80,000 people. Overnight: Rome. B
Day 8: St. Paul alla Regola, Abbey of the Three Fountains, Jewish Quarter, Catacombs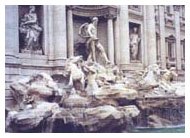 Paul came to Rome the first time under guard and house arrest. During this two year period he wrote the so-called "Prison Epistles." Today we visit the Rome most never see. In the morning we will experience the setting where Paul was likely writing from. The end of the Acts of the Apostlesdescribes how Paul was allowed to rent his own lodgings, and to hold assemblies where he instructed the first Christians at Rome, while waiting for the trial before the Emperor. Tradition claims that the church of St. Paul alla Regola is built on the site where he lived and taught in this period, and it is believed that his room is preserved therein. In favour of this tradition, there is some evidence that tanners worked along the bank of the Tiber here, which would make it a logical place for a tentmaker to settle. Next, we visit the Abbey of the Three Fountains where legend says that Apostle Paul was beheaded by Emperor Nero's order. His head strike the earth in three different places in which fountains sprang forth. Later, we visit the Jewish Ghetto en route to a tour of the Catacombs where thousands of Christians were buried in a remarkable tiered series of galleries. Overnight: Rome. B,L
Day 9: Vatican Museums & Sistine Chapel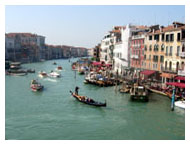 Some would say that the Gospel did not stop with Paul, but was transmitted through the centuries to the ordinary people by means of the arts. One cannot spend time in Rome and miss a visit to the incredible Vatican Museums and Sistine Chapel. So today we will shift our focus away from Paul's life and break some new ground in our understanding of Bible art. Overnight: Rome. B
Day 10: Home
This morning we transfer to the airport for our flight home. (B)