Munich Hub & Spoke 8 Day Reformation & Sightseeing Tour
Available to Groups of 20 persons or more.
Click on the tabs for more information
Price Per person double occupancy
Dates
Request a quote or call 800-322-0788 for more information.
Ask About Special Rates for Pastors, Christian Educators, & Custom Groups of All Sizes. No Obligation Group Quotation - Click Here
Price Includes: Roundtrip air from O'Hare to Munich, air taxes and fees, 6 nights hotel accommodations, 6 breakfasts, 2 dinners, all transfers, admissions, guides, and sightseeing per itinerary, baggage handling, hotel taxes and service charges, local guides for panoramic and half-day Munich tour.

Not Included: Gratuities to guides, drivers, restaurant and hotel staff, transportation/guides other than specified above, entrances, sightseeing and meals other than specified above, transfers to and from O'Hare, and travel insurance.
Airport transfers are included only when airfare is purchased from Pilgrim Tours. Taxi service is available for those purchasing their airfare elsewhere.
Deposit Required: $300 per person will reserve your place. A $100 service fee will be charged for cancellation at any time in addition to our normal payment and cancellation policy.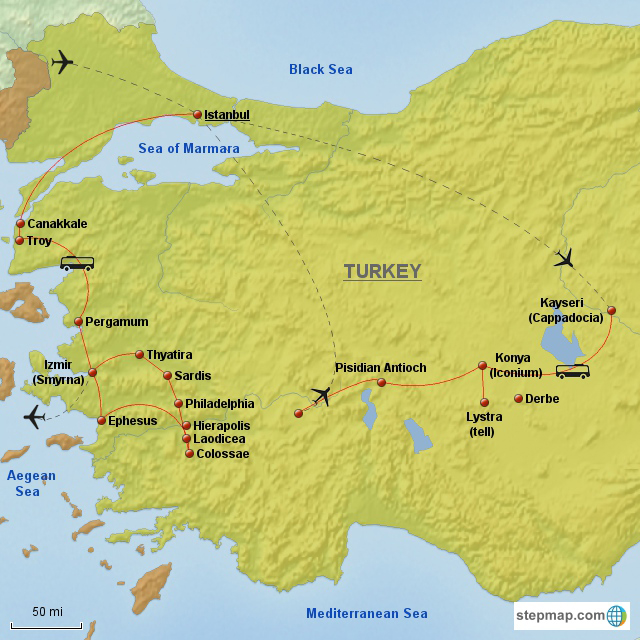 Day 1: Departure from USA
Late this afternoon, we depart from O'Hare Airport to Munich, Germany. Sit back, relax, and enjoy your flight with arrival in Munich the following day.
Day 2: Arrival in Munich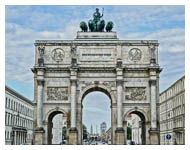 Upon arrival in Munich, we will be met by our guide and coach to transport us to our hotel for the next six nights. En route to our hotel, our guide will present a panoramic tour of the capital of the German state of Bavaria, Munich, so we become familiar with our surroundings. The remainder of the afternoon will be at your leisure. Savor the German cuisine, entertainment, and hospitality as you dine this evening as a group at the Hofbrauhaus.
Day 3: Munich - Dachau
Enjoy a fascinating city tour of Munich that will highlight the Marienplatz which lies at the heart of the Alstadt in the city centre. This lively, attractive square houses the Gothic New Town hall, Neue Rathaus, with its famous Glockenspiel as well as the Old Town Hall. We will see such landmarks as the Cathedral, Palace, and Unterkirche. A stop will also be made at the Olympic Stadium and Park, a landscaped park and buildings from the 1972 Olympic Games. This afternoon will be free to continue exploring our host city or to take an optional excursion to Dachau.
Day 4 - 7: Munich at our Leisure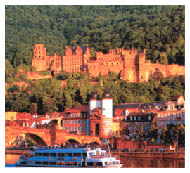 The next four days will allow us to explore Munich and surroundings on our own or take part in any or all of the optional excursions with details that follow. Take a stroll through one of the many public gardens in Munich, including the Botanical Gardens at Nymphenburg or visit the Schloss Nymphenburg, favorite residence of Bavarian elector, Maximilian Joseph. Stops can be made at the Church of St. Peter, the oldest parish church in Munich, or one of the world-renowned museums in Munich, such as the Deutsches Museum. Choose from one of the many restaurants or dining halls throughout our stay in Munich to enjoy the Bavarian cuisine.
Optional Day Tours
Day 3: Dachau - Optional Half Day Tour - Duration 4 Hours
Half-day motorcoach tour to Dachau, the Third Reich's first concentration camp. Inside the perimeter of barbed wire fence and watchtowers, one can see the crematorium, the barracks, a museum, and the Jewish memorial. This region north of Munich had been a popular haunt with artists and writers prior to the Nazis coming to power in the early 30's. The former concentration camp is a memorial to keep the memory of the cruelest crime in history alive.
Day 4: Salzburg - Optional Full Day Tour - Duration 9 Hours
Rendezvous with the fascinating City of Mozart as we admire the countless architectural and art-historical highlights of the exquisite baroque city of Salzburg. Our guide will show us the enchanting pedestrian area, Getreidgasse, of the old town including fascinating sights such as the Cathedral, St. Peter's Abbey and cemetery, and Schloss Leopoldskron, the palace facade used in the Sound of Music. Admission is included to Mozart's birthplace where one of the musical geniuses of all time lived with his parents and sister from his birth in 1756 until 1773. We also tour Hellbrunn Palace, built in the 1600's by the Prince Archbishop Markus Sittikis, which is a unique adventure with its magnificent ballrooms, enchanting gardens, and trick fountains.
Day 5: Berchtesgaden - Optional Full Day Tour - Duration 9 Hours
Bavarian kings chose this land at the foot of Mount Watzmann as their summer residence. Immersed in centuries of history, we journey with our guide to Berchtesgaden which is surrounded by majestic mountains atop one of which is the "Eagles Nest". Eagle's Nest is the resort presented as a birthday present to Adolf Hitler on behalf of the Nazi Party. Spared being demolished after the war, it remains today in its original state.
Day 6: Innsbruck - Optional Full Day Tour - Duration 9 Hours
With our guide, we coach to the imperial city of Innsbruck. Our tour will highlight the city's rich history and culture, including the Goldene Dachl (Golden Roof), which is composed of 2,600 gilded tiles. One stands with awe in front of the Schwarze Mander (Black Men) surrounding the Court Church (Hofkirche), St. Jakob's Cathedral, and in the center of the city, Spitalkirche with its bell-tower. A visit to Hofkirche, the church built in 1553, housing the cenotaph but not the remains of Maximilian I, is included in our visit to this scenic city. Our trip to Innsbruck will also include admission to the Hofburg Palace, the 15th century imperial palace of Emperor Maximilian I rebuilt in baroque style during the 18th century on orders of Maria Theresa.
Day 7: Neuschwanstein - Optional Full Day Tour - Duration 6 Hours
Our guide today will take us on a half-day excursion to the fairy-tale castle, Neuschwanstein Castle. As we take our guided tour of Ludwig II's most luxurious former residence, the interior styles range from Byzantine to Romanesque to Gothic. This castle, built between 1869 and 1886, has a most impressive view with the Alpsee Lake below and the Alps towering above. Duration: 6 hours
Day 8: Homeward Bound
This morning we transfer to the Munich Airport for our return trip home to the U.S.