Malta & Cyprus Paul's Missionary Journeys
9 Day Package
Year-round for parties of 10 or more
Click on the tabs for more information
Price Per person double occupancy
Dates
Request a quote or call 800-322-0788 for more information.
Price Includes: All motor coach and land transportation, sightseeing, admissions, services of tour director and driver, lodging, meals as specified in tour itinerary, taxes, gratuities to bellhops and waiters at included meals.
Not Included: Cost of obtaining passports or visas, laundry, meals, beverages or sightseeing not included in the itinerary, travel insurance, gratuity to guide, driver, communication charges, & excess baggage fees. Port charges and gratuities to crew are not included on cruises.
Deposit Required: $300 per person will reserve your place. A $100 service fee will be charged for cancellation at any time in addition to our normal payment and cancellation policy.
Day 1: Departure
Our life-changing journey begins this evening as we board our overnight flight to Malta.
Day 2: Arrive in Malta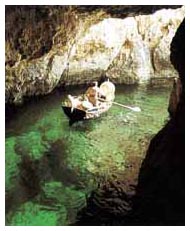 Today we arrive in Malta and embark on our Journey to the lands of ancient treasures and Christian history, we will be walking where the Apostle Paul walked! We transfer to a lovely hotel for dinner and our lodging for the next four evenings.
Day 3: Valletta, Harbor Cruise, St. Thomas Bay
A full day of guided sightseeing includes 7,000 years of history beginning in the walled capital city of Valletta, a World Heritage site. Dotted with quaint cafés and shops, the city is today one of Malta's main tourist attractions, hosting among others, the majestic St John's Co-Cathedral, the imposing bastions and a treasure of priceless paintings. Enjoy the history told of the Knight's of St. John of Jerusalem, a Crusader order who defended the westward campaign of the Ottoman move to conquer Europe. Relax on your harbor cruise providing a stunning snapshot of Malta's Grand Harbor, often described as the most beautiful in the Mediterranean. Drive to the ramparts where you begin a tour viewing some of the palatial inns and residences en route to St. Thomas Bay, a possible shipwreck site of the Apostle Paul.
Day 4: Mdina, Mosta Church, Dingli Cliffs, Rabat, St. Paul Bay, Catacombs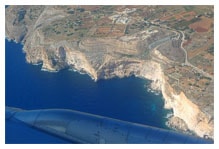 After breakfast, we have a full day excursion on Malta. The first stop will be a visit to St. Paul's and the site of the shipwreck. Our tour will take you from the point of the shipwreck, along the route said to be taken by St. Paul where he preached, where he baptised the first Maltese at San Pawl Milqi Chapel (meaning "St. Paul welcomed"), to the place where he rested. Paul stayed for several months in the town of Rabat, here we will visit the St. Paul's Grotto, the actual place where the saint is known to have stayed. Next a visit to the "Mosta Rotunda" a magnificent domed church in Mosta. Enroute to Rabat, we will visit St. Paul's Church and Grotto, a church founded in 1575 over the ancient caves where according to some traditions, the Apostle Paul was held captive. After a lunch break, we will walk through the streets of Mdina, Malta's first capital where we will visit the Cathedral dedicated to St. Peter and St. Paul. Mdina is also located in the highest elevations of Malta where magnificent views of the entire island are possible. Concluding our sightseeing on the western shore, we view the spectacular Dingli Cliffs before turning toward our return route. The last stop of the day will be the Catacombs of St. Paul, a fascinating labyrinth of 3rd-century AD subterranean tombs and the earliest archaeological evidence of Christianity in Malta.
Day 5: Free Day, Optional Tour of Gozo
Today is free with many things to do and see. You may choose an optional day cruise/tour to Malta's sister island of Gozo. After a twenty-minute crossing, on setting foot in Gozo you will notice that although both islands are similar in history and development Gozo has a character entirely of its own. Gozo, which is a three-hilled island, is greener and more picturesque than Malta. During this excursion, you shall visit the Temples of Ggantija, The megalithic temples of the Maltese Islands are UNESCO World Heritage sites and justly claimed to be the most impressive monuments of European, dating from around 3600 to 3200 BC. Additional tour sights include the citadel in Victoria, the bay of Xlendi, and calypso's cave. Free time for shopping will also be given - Gozo is well known for its woolen goods and handmade lace.
Day 6: Arrive in Cyprus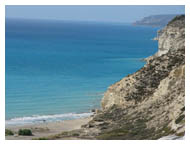 This morning is free to relax and enjoy the hotel facilities or sightsee on your own. After lunch we transfer to the airport for our flight to Cyprus. Our lodging this evening will be in a lovely ocean-front hotel.
Day 7: Paphos, Roman Capital of Cyprus
All sites visited in Paphos today are included in the official UNESCO List of Cultural Heritage. Paphos was the Roman capital of Cyprus and it was there, after seeing God perform a miracle through Paul, that the Proconsul Sergius Paulus was converted to Christianity in 47 AD. Cyprus was the first area to be ruled by a Christian. Our first stop is at the Pillar of St. Paul where the Apostle was bound and flogged. It is surrounded by the remnants of an early Christian basilica constructed in the 4th Century. The tour proceeds to the colorful and evocative Roman mosaics depicting mythological scenes mostly from the 3rd Century AD. The tour continues to the Tomb of the Kings - an ancient necropolis carved out of solid rock and given this regal name because of its imposing character. These underground pillared atria and chambers served as refuge for Christians during early persecutions. The next stop is the Monastery of St Neophytos. In 1159 a monk by the name of Neophytos cut this hermitage in the rock with his own hand. The Neophytos Rock-Grotto contains fine frescoes from the 12th to 15th Century. En route back to Limassol there is a photostop at Petra Tou Romiou, a chunky, rugged rock that marks the legendary birthplace of Aphrodite, ancient Goddess of Love and Beauty. Cyprus was an important pilgrimage centre during Ancient times for the worship of this Goddess. We return to Limossol for dinner and the evening.
Day 8: Biblical Port of Salamis, Church of Cyprus, Lazarus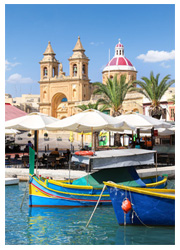 We begin our tour today with the city where Paul & Barnabas began their ministry in Cyprus, the port city that they sailed to from Jaffa. (Acts 13:5) Biblical Salamis was a maritime town on the eastern coast of Cyprus, situated at the end of a fertile plain between two mountains. Its fine harbor, its location, and fortifications made it the chief city of the island. When St. Paul landed at Salamis with Barnabas and met John Mark, there were several synagogues, and it was here that they began their witness to the island. Although the date, place, and circumstances of his death are, as yet, historically unverifiable, Christian tradition holds that Barnabas was martyred at Salamis in 61 AD. He is traditionally identified as the founder of the Cypriot Church. We visit the Roman ruins and the church and monastery where Varnavas, the founder of the church of Cyprus is buried. Continuing on to Larnaca, we visit the Panagia Angeloktisiti, the oldest known church in Cyprus dating back to the 6th century. Another stop will be made to view the traditional Tomb of Lazarus. Again, tradition says that Mary and Martha visited Lazarus in Larnaca. Free time will be allowed along the lovely Palm tree promenade before dinner.
Day 9: Homeward Bound
We transfer to the airport for our flight back to the USA.