Mystical Ireland 10 Day Package
Groups Only: April through October
Click on the tabs for more information
Price Per person double occupancy
Dates
Request a quote or call 800-322-0788 for more information.
Ask About Special Rates for Pastors, Christian Educators, & Custom Groups of All Sizes. No Obligation Group Quotation - Click Here
Price Includes:
Round trip flights between U.S. & Ireland,
Sightseeing by luxury coach throughout,
Services of a professional Irish tour director,
Superior and first class hotels with private bath/shower for 8 nights,
8 full Irish breakfasts (B) & 7 dinners (D),
Tour the Guinness Storehouse,
Ferry ride across Strangford Lough,
Tour of Belfast with a local guide,
Tour of Old Bushmills Distillery,
Walking tour of Derry,
Catamaran cruise of Killary Harbor,
"The Quiet Man" walking tour of Cong,
Visits and admissions to Dublin Castle, National Botanic Gardens, Down Cathedral, St. Patrick Center, Mount Stewart House and Gardens, Giant's Causeway, Tower Museum, Ulster American Folk Park, Belleek Pottery Factory, Tobernault Holy Well and Mass Rock, Foxford Woollen Mills and Connemara Celtic Crystal Factory,
All local taxes, hotel service charges & porterage for one suitcase per person
Your Hotels (or similar):
Mont Clare Hotel, Dublin (2 nights),
Europa Hotel, Belfast (1 night),
City Hotel, Derry (2 nights),
Wyatt Hotel, Westport (1 night),
Corrib Great Southern Hotel, Galway (2 nights)
Airport transfers are included only when airfare is purchased from Pilgrim Tours. Taxi service is available for those purchasing their airfare elsewhere.
Deposit Required: $300 per person will reserve your place. A $100 service fee will be charged for cancellation at any time in addition to our normal payment and cancellation policy.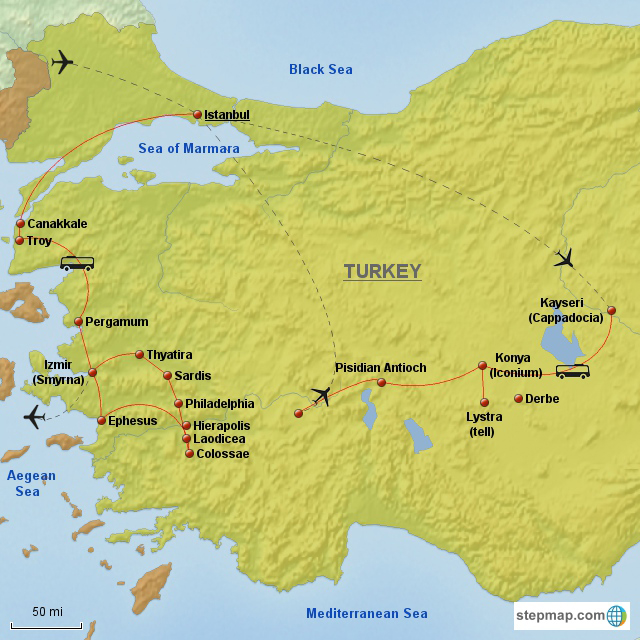 Day 1: Depart U.S. for Dublin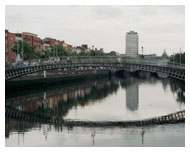 Take an overnight flight to Dublin and relax with in flight meals.
Day 2: Dublin & Abbey Tavern
Arrive in Dublin Airport, complete immigration formalities and pick up your luggage. Go to the desk in the Arrivals Hall to transferred to your hotel. At 2:00 pm see the highlights of Dublin's city center and tour the Guinness Storehouse to learn about the famous brewery and try some of the finished product. In the evening drive to the Abbey Tavern for some traditional Irish dishes followed by an upbeat show featuring popular folk songs. (D)
Day 3: Dublin Castle & Botanic Gardens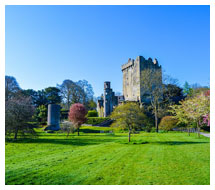 This morning join your group for an overview of Dublin. See Georgian townhouses, bustling shopping streets, parks and public buildings as you drive around the city center. Visit the State Apartments at Dublin Castle to learn about their use for political functions and see the rich furnishings and portraits. Visit the National Botanic Gardens to see the splendid refurbished Victorian glasshouses. Stroll around different types of gardens containing collections of plants and trees from all over the world. The rest of the day is at leisure for independent sightseeing, shopping and dining. (B)
Day 4: Downpatrick & Mount Stewart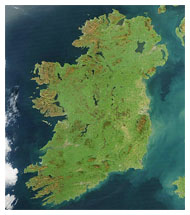 Drive north via Drogheda and Newry and follow the coastline to view gentle green slopes of the Mourne Mountains along the way. Stop in Downpatrick to see St. Patrick's reputed burial place, marked by a granite boulder at Down Cathedral. Visit the newly opened Saint Patrick Centre to learn about Ireland's Patron Saint. Cross Strangford Lough by ferry to visit Mount Stewart House and Gardens. This property, home to Lord Castlereagh during Napoleonic times, contains portraits and furnishings while the elaborate gardens were developed a century ago. Check into your hotel in Belfast. (B, D)
Day 5: Belfast & Giant's Causeway
A local guide will take you on a tour through Belfast, rich in Victorian and Edwardian architecture. See major points of interest including Stormont House and City Hall in Donegall Square. Journey along the spectacular drive of the "Nine Glens of Antrim" with mountains on one side and coastline on the other. Tour the Old Bushmills Distillery, the world's oldest which was first licensed in 1608. After a demonstration and a tasting visit the nearby Giant's Causeway, a mass of 40,000 hexagonal basalt columns formed over 60 million years ago. Legends about giants abound, especially Finn McCool, a hardy Ulster hero. Drive along the north coast to Derry. (B, D)
Day 6: Derry & Ulster American Folk Park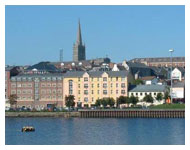 Take a walking tour around Derry still mostly encircled by its medieval city walls. Finish your walk at the Tower Museum, dedicated to the history of Derry. Travel past the scenic Sperrin Mountains to visit the Ulster American Folk Park, located outside Omagh. The Park centers on the boyhood cottage home of the industrialist, Thomas Mellon, who emigrated to Pittsburgh in 1818. Trace the story of emigration which began in the 1720s with Ulster settlers who headed for the Appalachians in Colonial times. The Park recreates the emigrant experience traveling from the "old world" by ship to emerge in the "new world." Return to Derry for dinner. (B, D)
Day 7: Belleek Pottery & Foxford
Travel into the visually stunning scenery of the Blue Stack Mountains and through Donegal town to visit the Belleek Pottery Factory, founded in 1849 after the Potato Famine. Tour the factory to see craftspeople fashion and decorate clay into delicate ornaments. Drive by Donegal Bay and through Sligo, known as "Yeats"'Country." Stop to visit Tobernault Holy Well and Mass Rock, a site developed in Penal Times. Continue to Foxford Woollen Mills to learn how this industry helped impoverished local people. See historical displays and modern production of quality fabrics and blankets. Continue to Westport and check into your hotel. (B, D)
Day 8: Catamaran Cruise & Galway
Travel through some delightful scenery of County Mayo as you drive past Clew Bay with its many islands on one side and the conical mountain of Croaghpatrick on the other. The rocky peak is a popular place of pilgrimage where people climb the stony path to the summit. At Leenane embark on a short catamaran cruise aboard the "Connemara Lady" to view the delightful scenery of Killary Harbor, Ireland's only fjord. Drive through part of Connemara, a region of gentle hills and open spaces, to your hotel in Galway. (B, D)
Day 9: Connemara & "Quiet Man" Tour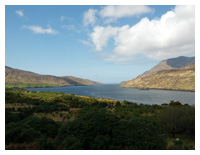 Drive along the shores of Galway Bay to Spiddal. View the Aran Islands before turning inland through Connemara to Moycullen. Visit the Connemara Celtic Crystal Factory, where celtic motifs are expertly cut into colored crystal. Travel via Maam Cross and alongside part of Lough Corrib to Cong where "The Quiet Man" was filmed in 1952 with John Wayne and Maureen O'Hara. Take a short walking tour to see places associated with the movie and finish at the Quiet Man Heritage Cottage, filled with movie memorabilia. Return to Galway via Headford. (B, D)
Day 10: Return to U.S.
Transfer to Shannon Airport with your group to arrive by 10:00 am. After check in you'll have time to shop at the duty free stores before U.S. Immigration pre-clearance and boarding your flight for the journey home. (B)