Prague, Germany & Switzerland Reformation 12 Day Tour
Click on the tabs for more information
Price Per Person Double Occupancy
Dates
Request a quote or call 800-322-0788 for more information.
Ask About Special Rates for Pastors, Christian Educators, & Custom Groups of All Sizes. No Obligation Group Quotation - Click Here
Click here for "Frequently Asked Questions"
Price Includes: Very nice 3 and moderate 4 star hotels, breakfast daily, 7 dinners (beverages not included), modern transportation, sightseeing as listed, baggage handling for 1 piece per person, and taxes.
Not Included: Airfare, fuel charges, air taxes, travel/cancellation insurance, lunches, 3 dinners, gratuities to driver and guide.

Optional Insurance for health, baggage and cancellation. (This insurance is available and highly recommended)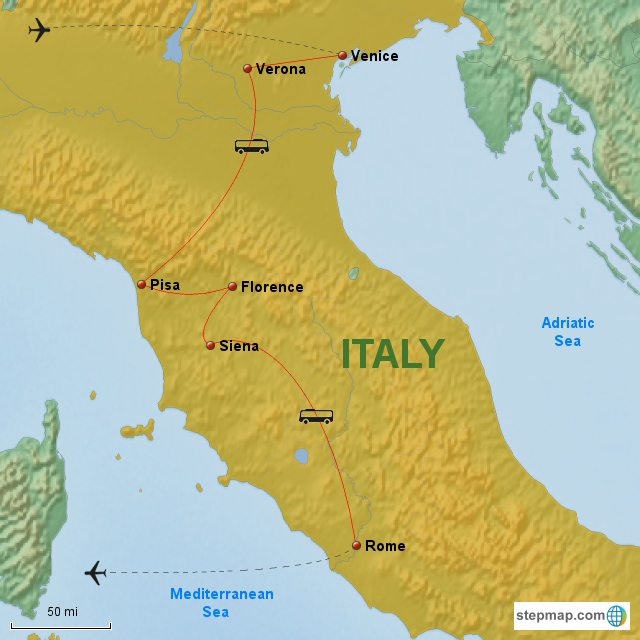 A large portion of our understanding of scripture was formed in this picturesque setting. Be challenged by the faith and courage of our church fathers on this wonderful tour vacation.
Day 1: Depart USA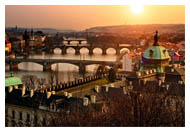 Overnight flight to Prague.
Day 2: Arrive Prague
When we arrive in Prague, our Tour Director will greet and escort us to our waiting deluxe, air-conditioned motor coach. We will begin our visit to Prague with a city orientation tour. Tonight, we are invited to a special welcome dinner and orientation. Overnight in Prague.
Day 3: Prague Tour
Our expert local guide will join us this morning for a walking tour focused on Jan Hus, the leading personality of the Czech Reformation movement. We'll visit Bethlehem Chapel where he preached, and see the Hus monument outside Tyn Church. Hus was a contemporary of John Wycliffe and was heavily influenced by his writings. They both agreed that all Christians are members of Christ's church and that Jesus is the head. We'll also visit the Castle, which is a complex of palaces, courtyards, streets and churches including St. Vitus Cathedral, which took 600 years to complete. We will then take a stroll across Charles Bridge, past the famous statues. The afternoon and evening are at leisure.
Day 4: Dresden, Wittenberg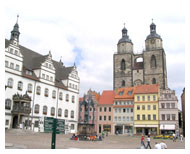 Crossing into Germany, we will stop in the wonderful Baroque city of Dresden. Highlights include the magnificent palatial buildings around the Theaterplatz and the Brühl Terraces, and the many art treasures at the state museums. Germany's largest Protestant church, the Frauenkirche has now been fully restored after being damaged during WWII. J.S. Bach was the first to play on the Silberman organ when the church was originally built. We will then continue on to Lutherstadt-Wittenberg.
Day 5: Wittenberg, Luther Museum
This morning is free, with the option of attending a church service (in German). In the afternoon our local guide will take us to where Martin Luther nailed his fa-mous 95 Theses to the door of the Schlosskirche (Castle Church) in 1517. Although the original door was destroyed in a fire, the replica has all 95 Theses in bronze, which is magnificent. Next we tour the Luther-halle (Luther House) Museum, where Luther lived for 35 years. It was here that he had his pivotal "Tower Experience" while reading Romans 1:17. The rest of the day is at leisure.
Day 6: Buchenwald, Medieval Erfurt
In the afternoon we'll take a sobering visit to Buchenwald and pause to remember those dark days and those who were incarcerated during WWII including Dietrich Bonhoeffer. When we arrive in Medieval Erfurt, we'll tour St. Mary's Cathedral, where Luther was ordained. We'll also tour the Augustinian Monastery and enjoy a service in the chapel with our group. After a tour of the Luther Exhibition, where we will see what a cell from Luther's time would have looked like, we will check into the Monastery guest house.
Day 7: Wartburg Castle, Eisenach, Rudesheim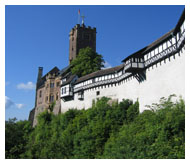 This morning we'll travel to the imposing Wartburg Castle, where Luther took refuge after a fake kidnapping staged by his friend and protector, Frederick the Wise. This is where Luther translated the New Testament into German in just 11 weeks! We'll board the boat at St. Goar and sail past magnificent castles and the famous Loreley rock. We'll then have the afternoon to explore Rudesheim, a town dating back to the pre-Roman era. Dinner will be in a winery.
Day 8: Worms, Heidelberg, Zurich
On our way south, we'll stop in Worms for a brief stop to see the site of the Worms Debates (Diet of Worms), now a park, with a plaque commemorating the Diet of Worms and the Reformation Monument. Our guide will also share about an-other Reformer, William Tyndale, who finished his printing of the English Bible in Worms, escaping persecution in England. Our lunch stop will be in Heidelberg, a gorgeous town on the Neckar River. The stone bridge and Castle are magnificent. Driving through the Black Forest, we'll end our day with a group dinner and overnight in Zurich.
Day 9: Zwingli's Zurich, Lauterbrunnen
Today we learn more about Zwingli on a tour of the key Reformation sites in Zurich. We tour Zwingli's church, the Grossmünster, and see the Zwingli Statue. We have a stroll through the historic Alt-stadt (old city) and enjoy the Swiss heritage. We also see the Zwingli Museum and the Helferei (where Zwingli lived). Other notable sites are the Fraumünster (the famous Catholic Cathedral) and the historic Auld Stadt (old city). We'll enjoy a group dinner in Lauterbrunnen, where we will stay for two nights.
Day 10: Spectacular Swiss Alps
Today we will have a full day to explore the Lauterbrunnen Valley, regarded as one of the most spectacular glacial valleys in Europe. It lies surrounded by the un-spoilt natural beauty of the magnifi-cent Swiss Alps. In the afternoon we'll ride the funicular railway to the pictur-esque resort of Murren. This is a car-free village perched atop a cliff, sur-rounded by the unbelievable panorama of the Eiger, Monch, and Jungfrau peaks. We return to Lauterbrunnen for a second overnight stay.
Day 11: Chillon Castle, Geneva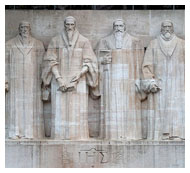 Leaving the Alps behind, we will drive to Chillon Castle which stands on the banks of Lake Geneva and was the inspiration for Lord Byron's poem, "The prisoner of Chillon." We'll take a tour of this impressive fortress, before making our way along the bank of Lake Geneva, also known as Lac Leman,to Geneva. Our local guide will take us on a walking tour this afternoon to learn more about John Calvin, the French Prot-estant theologian and John Knox, the Scottish Reformer, who spent several years here as a Pastor. The tour will include Cathedrale St. Pierre (St. Peter's Cathedral), the impressive Reformation Monument, the Museum of the Reformation and Calvin College. We'll have the opportunity to sample local Swiss cuisine this evening. Overnight in Geneva.
Day 12: Return
We transfer to the airport early this morning for our flight home.