Mennonite / Anabaptist 21 Day Package
(21 Day) Detailed Program Customize this tour for your group
Click on the tabs for more information
Price Per person double occupancy
Dates
Request a quote or call 800-322-0788 for more information.
Ask About Special Rates for Pastors, Christian Educators, & Custom Groups of All Sizes. No Obligation Group Quotation - Click Here
Click here for "Frequently Asked Questions"
Price Includes: All motor coach and land transportation, sightseeing, admissions, services of tour director and driver, lodging, meals as specified in tour itinerary, taxes, gratuities to bellhops and waiters at included meals.
Not Included: Cost of obtaining passports or visas, laundry, meals, beverages or sightseeing not included in the itinerary, travel insurance, gratuity to guide, driver, communication charges, & excess baggage fees. Port charges and gratuities to crew are not included on cruises.
Day 1: DEPART USA
A late afternoon overnight flight will bring us to Brussels, Belgium by early the next morning. There is an in flight meal.
Day 2: BRUSSELS/UTRECH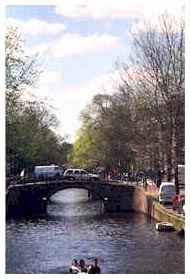 We are met by our tour bus and driven to the capital of Belgium, Brussels. We'll have time to visit some of the highlights of the city such as the Grand Place from the 12th Century. The Grand Place is one of the most perfectly preserved of all market squares in Europe. Quaint and unusual shops line the narrow streets. We'll pass the odd looking Atomium, a perfect replica of an iron molecule which stands at an impressive 335 feet high. We arrive in Utrech this afternoon in time for dinner. Overnight Utrech. Breakfast and Dinner included.
Day 3: AALSMEER/AMSTERDAM/ALKMAAR
Following an early breakfast, we head out to the largest flower auction in the world in Aalsmeer. Afterwards we head to the 17th century city of Amsterdam for a canal cruise in a glass-topped boat. We'll take a walking tour of the city seeing sites such as Anne Frank's house, the Dam Square and the beautiful baroque Koninklujk Paleis. We continue north to Alkmaar. Overnight Alkmaar. Breakfast and Dinner included.
Day 4: ALKMAAR / WITMARSUM / GEITHOORNE / ENSCHEDE
Our first stop today is the colorful cheese market in Alkmaar. It is set in Waagplein, a pleasing little square surrounded by 17th century buildings and lazy canals. We'll take some time to sample and purchase one of the many Edams and Goudas on display before we head to the Afsluitclyk dike. The structure connects north and south Holland and is 22 miles long. We'll stop at Witmarsum, where Menno Simons was born in 1496. A former Catholic priest, Menno joined the Anabaptists in 1536. A monument erected in memory of his movement is a landmark site of our tour. We board our motor coach once again and head to the small town of Geithoorne, population 2500. Many Anabaptists sought refuge here because of the drenched landscape and inaccessibility from their persecutors. Geithoorne has no streets, only canals and foot bridges. We'll take a pleasant boat tour before we start off for Enschede. Overnight Enschede. Breakfast and Dinner included.
Day 5: GERA, GERMANY
This morning we begin our journey to Germany via the lovely German countryside. This afternoon we head south to Gera where the rest of the day is at leisure. Breakfast and Dinner included. Overnight Gera.
Day 6: DEGGENDORF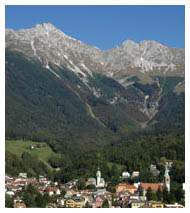 If possible, we'll attend a local church service this morning following breakfast. We'll drive through a small part of Czechoslovakia to Deggendorf. Breakfast and Dinner included. Overnight Deggendorf.
Day 7: OBERDORF / BERCHTESGADEN / INNSBRUCK, AUSTRIA
Our sightseeing begins at a small memorial chapel in Oberdorf. The original church on this site was where the favorite hymn, Silent Night, was first sung in 1818. We continue to the old, walled city of Salzburg, considered to be one of the most exquisite cities in Europe, where a walking tour is featured. After lunch, we'll visit the hideout of the notorious Adolf Hitler, the Eagle's Nest. The excursion to the top of this infamous retreat is accessible by special bus up the mountains of Obersalzberg at Berchtesgaden. The rest of the journey will be on foot via a 400 foot tunnel and another 400 feet up via elevator. Breakfast and Dinner included. Overnight Innsbruck.
Day 8: INNSBRUCK / BAVARIA / LIECHTENSTEIN / RAPPERSVIL
Today we tour the Alpine city of Innsbruck. The Anabaptist faith spread rapidly in the Tirol in the 1520's, although many followers deserted the area due to persecution. Highlights of the area include a visit to Saint Jacob's Cathedral and the Olympic ski jump area. Following lunch, we'll cross over into Germany. Our highlight here will be the imposing Neuschwanstein Castle, built by the mad King Ludwig II. The stronghold is set among some of the most beautiful scenery in the world. As we head out of Germany, we'll drive through the tiny country of Liechtenstein and arrive in Switzerland in time for dinner. Breakfast and Dinner included. Overnight Rappersvil.
Day 9: ZOLLIKON / LUCERNE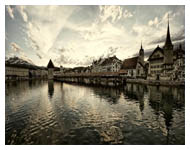 We travel along the Zuricksee to the tiny village of Zollikon. We'll visit the house where, on a cold January evening in 1525, the first Anabaptist congregation was founded. We'll also tour the Tauferhohle, also known as the Cave of the Anabaptists, where the congregation met during times of persecution. This afternoon a ferry takes us across Lake Zurich where we'll have dinner in the lovely town of Lucerne. Breakfast and Dinner included. Overnight Lucerne.
Day 10: GRINDELWALD / INTERLAKEN
Today we travel to the heights of the country's most impressive peaks. Our day begins with a visit to the village of Grindelwald, also known as the "Glacier Village". From Grindelwald, we travel up and up via cog to the spectacular peak of the Jungfraujoch. The view from 11,000 feet will take your breath away. This afternoon we head towards the panoramic village of Interlaken, enjoying the charming scenery along the way. Today's excursion will be etched upon your memory for a long, long time. Breakfast and Dinner included. Overnight Interlaken.
Day 11: SIGRISWIL
We'll experience more of the natural beauty of Switzerland at Sigriswil, located along Lake Thun. Our bus will take us as far to the top of the mountain as possible for another breathtaking view. Not unlike Heidi's Switzerland, the area boasts lush, green pastures where cows graze during the summer and dairy farms dot the landscape. Be sure to have plenty of film in your camera for this excursion. Breakfast and Dinner included. Overnight Sigriswil.
Day 12: BERNE / EMMENTAL / HASLENBACH / LANGNAU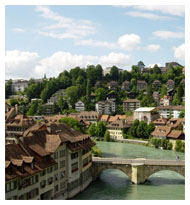 We continue through Switzerland and the old, picturesque city of Berne. Along with a walking tour of the city, we'll also tour the famous Bear Pits. After lunch, we'll drive through the Emmental Valley where many Anabaptists lived after leaving Berne, Zurich and other cities where they faced persecution. One unusual stop will be at a flower decorated cemetery. The small hamlet of Haslenbach, named after the famous martyr, will be our last stop of the day before heading to Langnau. Breakfast and Dinner included. Overnight Langnau.
Day 13: LUCERNE / ZURICH
We'll visit the church of the oldest Mennonite congregation, founded in the 1530's, before we drive to Lucerne, the country's major tourist attraction. One of Lucerne unique features is its attractive covered bridges. We'll visit the Lion Monument and cross the 14th century wooden bridge. There will be time for leisure, shopping, and visiting other sites before we head north to Zurich. Breakfast and Dinner included. Overnight in Zurich.
Day 14: ZURICH / SCHAFFHAUSEN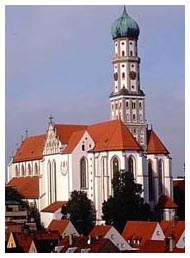 Our tour of Zurich will be mainly of the old part of the city. It was here that Felix Manz was martyred in the Limmat River. We'll visit the Grossmunster church and it's statue of Ulrich Zwingli, one of the important Reformers. Our guide will take us on a walking tour to see the many other attractions Zurich has to offer. Quite a different afternoon is planned for us at the beautiful Rhine Falls. We will take a boat to the base of the falls and then walk to the top. Breakfast and Dinner included. Overnight in Schaffhausen.
Day 15: BLACK FOREST / ALTKIRCH, FRANCE
We bid a fond farewell to unforgettable Switzerland and drive to the enchanting Black Forest area of Germany. Here is where the beautifully, hand carved cuckoo clocks are made in the little shops along the Titisee Lake. Our journey then takes us to France and the area known as Aslace. The area features a number of Mennonite churches. Numerous Amish lived in this area before moving to America. Breakfast and Dinner included. Overnight Altkirch.
Day 16: ALTKIRCH / RIBEAUVILLE
Visits to old churches and cemeteries (where you will note some familiar names) start our second day in France. If possible, we will visit a local Mennonite farm. We'll travel to small villages occupied by the Amish long, long ago. You may see storks resting on the rooftops and chimneys in the aged town of Ribeauville. Breakfast and Dinner included. Overnight Altkirch.
Day 17: WORMS, GERMANY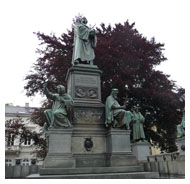 Today we arrive in Worms, an important city during the Reformation. It was here that Martin Luther was tried for heresy. We'll visit the cathedrals and monument erected in memory of Luther. The remainder of the day is at your leisure. Breakfast and Dinner included. Overnight Worms.
Day 18: IBERSHEIM / WEIERHOF
The little town of Ibersheim was destroyed during the 30 Year War. Anabaptists from neighboring Switzerland were asked to assist in the rebuilding of the town's farms in 1650. Thus, the Anabaptist movement thrived here as they suffered no persecution in the area. We will take a walking tour of the quaint village and farms. This afternoon, we'll head towards Weirehof. The day is ours to rest or explore until our busy day tomorrow. Breakfast and Dinner included. Overnight Weierhof.
Day 19: WEIREHOF / BAD KREZNACK
Weirehof is full of Mennonite history. The first meeting house was built here in 1770, resembling a cow shed. The Anabaptist congregation was forbidden to build any other type of building for their meetings as the "decent people" might mistake attending one of the Mennonite's "heretical" meetings. We'll take a walking tour of the town, a true Mennonite community which was destroyed in the Thirty Years War. Highlights include the present meeting house, which was built in 1867, a large Mennonite school and a Mennonite cemetery. Afterwards, we leave for Bad Kreznack for a free afternoon. Breakfast and Dinner included. Overnight Bad Kreznack.
Day 20: RHINE RIVER CRUISE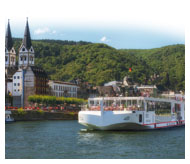 A slow paced day awaits us beginning in Rudesheim Am Rhein. This historic village is located on the peaceful Rhine River. We'll see the town on foot first, exploring it's narrow streets, unique shops and restaurants. Afterwards, we'll board our cruise vessel to Boppard. From there we are transferred to Koblentz where the Mosel and Rhine Rivers meet. Along the Mosel, we'll see beautiful, sloping hills with lush vineyards. Breakfast and Dinner included. Overnight Trier.
Day 21: DEPART BRUSSELS
We transfer this morning to Brussels where our flight to the US awaits.