Germany, Switzerland & Italy 13 Day Alpine Adventure
Available April - November for groups
Click on the tabs for more information
Price Per person double occupancy
Dates
Request a quote or call 800-322-0788 for more information.
Ask About Special Rates for Pastors, Christian Educators, & Custom Groups of All Sizes. No Obligation Group Quotation - Click Here
Price Includes: Roundtrip air, 11 nights lodging at first class European hotels, breakfast daily, 9 dinners, full time English speaking tour escort, services of long distance deluxe motor coach as appear on itinerary, all guides entrances and transportation as appear on itinerary.

Not Included: Air taxes ($350.00 currently, subject to change), tips to drivers, guides and hotel staff ($70.00 recommended), lunches, 2 dinners, optional travel insurance.
Airport transfers are included only when airfare is purchased from Pilgrim Tours. Taxi service is available for those purchasing their airfare elsewhere.
Deposit Required: $300 per person will reserve your place. A $100 service fee will be charged for cancellation at any time in addition to our normal payment and cancellation policy.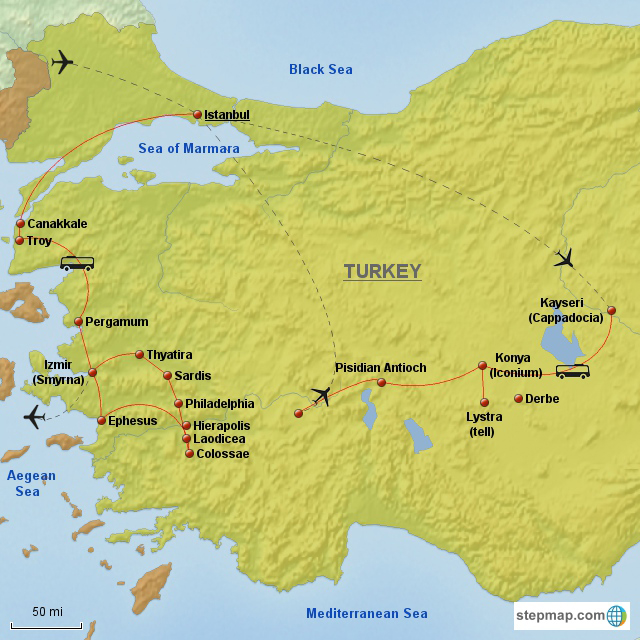 Day 1: Depart USA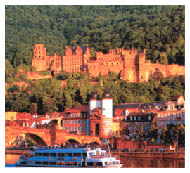 Our Alpine Country Adventure begins with an overnight flight to Munich.
Day 2: Arrive in Munich
Upon arrival in Munich, a Pilgrim Tour Escort meets us and helps us board our awaiting motor coach. We take a brief panoramic tour of Munich before traveling to Salzburg, Austria. When we arrive in Salzburg, we check into our first class hotel and enjoy a special welcome dinner together. We have an evening at leisure to relax or enjoy an evening stroll.
Day 3: Highlights of Salzburg
After breakfast at the hotel, we experience a full day tour of Salzburg. Salzburg is home of Mozart and the city where The Sound of Music was filmed. Our full day tour includes a visit to Mozart's birth place and the New Residence Palace. This evening we have the privilege of attending a Fortress Concert.
Day 4: Travel to Innsbruck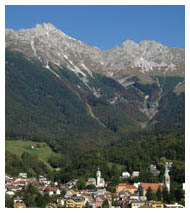 We depart Salzburg this morning and travel to the beautiful town of Innsbruck. Innsbruck, the capital of Tirol, is an alpine ski village and a progressive city. Innsbruck is nestled in a narrow valley right below lofty mountain peaks, is marked by historic churches and buildings, interesting monuments, rich museums and galleries, and active commerce which make the place an interesting sports-plus-culture attraction. The city is famous for the scenic beauty, winter sports and landmark, the Goldene Dachl. When we arrival in Innsbruck, we take an orientation tour to include a guided tour of Hofkirche. Afterwards, we check into our Innsbruck Hotel and enjoy dinner and overnight.
Day 5: Neuschwanstein Castle and Oberammergau Touring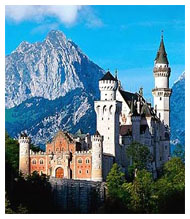 We spend a full day touring in Germany's Bavarian Alps. We begin with a visit to Neuschwanstein Castle, one of the most popular of all the palaces and castles in Europe. Over 1.3 million people visit "the castle of the fairy-tale king" each year. After lunch, we continue on to Oberammergau for a panoramic tour and free time to visit and explore on our own. Oberammergau is a popular tourist resort and noted wood-carving center. It is also the location of the famous "Passion Play" which has been performed since 1634. We return to Innsbruck for our dinner and overnight.
Day 6: Vaduz and Zurich Touring
We depart Innsbruck this morning and travel to Vaduz. The Vaduz Castle and residence of the royal family of Liechtenstein is the landmark of Vaduz. We enjoy an orientation tour of Vaduz with time to enjoy lunch at one of the local restaurants before continuing our journey to Zurich. When we reach Zurich, we have an orientation tour to include a visit to the medieval Grossmunster Cathedral before we travel south to Lucerne for dinner and overnight.
Day 7: Lucerne Touring
After breakfast we stay all day in Lucerne. Lucerne boasts invigorating mountain views, lake cruises and a picturesque old quarter, making it one of Europe's most visited and popular towns. The River Reuss splits the town, flowing rapidly out of the northwestern end of the lake. River banks on both sides are clustered with medieval squares, frescoed houses, ancient guildhalls, churches and chapels, and filled with a liveliness that belies the city's age. After a morning tour of Lucerne, the afternoon is free to explore on your own. Lucerne offers much to choose from as some may take in some of its quality museums - a Picasso gallery, the impressive Verkehrshaus (Transport Museum) - in between walking on the medieval battlements, or exploring cobbled alleys and hidden garden courtyards.
Day 8: Brienz, Interlaken and Grindelwald Touring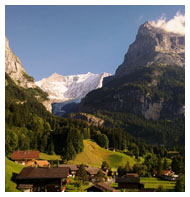 This full day of Alpine adventure begins with a visit to the famous woodcarving town of Brienz. After a panoramic tour of Brienz, we have free time to visit woodcarving shops before continuing on to Interlaken. After an orientation tour of Interlaken, we visit Grindelwald, known as the "Glacier Village," for a free afternoon to explore and hike the trails along the picturesque base of the Matterhorn or take part in a Jungfraujoch Excursion. Those who choose the Jungfraujoch excursion will enjoy an unforgettable trip to the high Alpine wonderland of eternal ice and snow and is truly the highlight of a visit to Switzerland. At an amazing (11,333 ft.), the Jungfraujoch is Europe's highest railway station, and we take the train and ascend to Jungfraus (13,642 feet). Dinner and overnight is in Berne.
Day 9: Berne, Montreux and Taesch Touring
Our Alpine adventure continues today with a morning tour of Berne. Of all Swiss cities, Bern is perhaps the most immediately charming. The morning tour includes entrance to Muenster Cathedral before continuing to the Lake Geneva resort town of Montreux for a guided tour of famous Chillon Castle. After lunch (on your own), we take a short train ride from Taesch to Zermatt. The mountain village of Zermatt is one of the great ski and climbing centers of the world. Nestled in a deep valley enclosed between steeply scarped mountains, it is dominated by the huge and gracefully curved pyramid of the Matterhorn. From the moment you step off the Swiss-red train, and catch sight of the cobbled streets and horses with sleighs patiently waiting for their rides, you know you are in a special place. We enjoy dinner and overnight at our hotel.
Day 10: Zermatt and Stresa
The morning in Zermatt is free to shop, hike, or explore on your own. After lunch we travel by train from Zermatt back to Taesch, and then by motor coach to the Italian Lake District. We arrive in the resort town of Stresa for a leisurely evening with dinner at our hotel.
Day 11: Stresa and Isola Bella Touring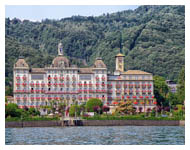 After breakfast, we depart Stresa and take a private boat ride to the Isles of Isola Bella, Isolda Pescatori and Isola Madre. While on Isola Bella, we stroll through the beautiful Italian gardens and the Palazzo Borromea. While on Isola Madre, we visit the gardens and the Palace with its puppet theater. We return to Stresa in the evening for dinner and overnight.
Day 12: Free day in Stresa or Optional Tour to Milan
We enjoy a full day of leisure in Stresa to relax, shop, or explore on your own or some may choose to take an optional day trip to Milan. Milan offers a visit to the famous Duomo, one of the largest Gothic cathedrals in the world and Leonardo Da Vinci's most famous fresco—The Last Supper. We return to Stresa in the afternoon in time to enjoy our farewell dinner together; a time to reflect and share with each other the highlights of our Alpine Adventure tour.
Day 13: Return to USA
After breakfast, we are transferred to the Milan airport in time to catch our return flight to the USA.