Germany & Britain Christian Heritage 17 Day Tour
May through October For Groups
Click on the tabs for more information
Price Per person double occupancy
Dates
Request a quote or call 800-322-0788 for more information.
Ask About Special Rates for Pastors, Christian Educators, & Custom Groups of All Sizes. No Obligation Group Quotation - Click Here
Price Includes: Very nice 3 1/2 and moderate 4 star hotels, breakfast daily, 8 dinners, modern transportation, sightseeing as listed.

Not Included: Airfare, fuel charges, air taxes, travel/cancellation insurance, lunches, 6 dinners, minimum gratuities to driver and guide ($9 per person per touring day will be added to final invoice).
Airport transfers are included only when airfare is purchased from Pilgrim Tours. Taxi service is available for those purchasing their airfare elsewhere.
Deposit Required: $300 per person will reserve your place. A $100 service fee will be charged for cancellation at any time in addition to our normal payment and cancellation policy.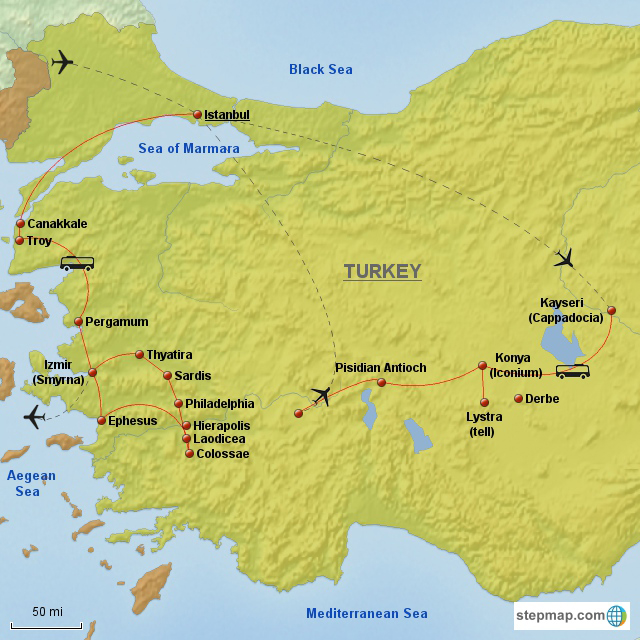 From a Priest to a Protestant
Tour sights are colorful with historic charm that cannot be found anywhere else. A large portion of our understanding of scripture was formed in this picturesque setting. Be challenged by the faith and courage of our church fathers on this wonderful tour vacation.
Day 1: Depart USA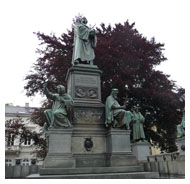 Overnight flight to Europe.
Day 2: Arrive Frankfurt, Worms, Mannheim
Arrive in Frankfurt this morning by and begin sightseeing in nearby Worms. It was here, during the Imperial Diet in 1521, that Martin Luther challenged the entire Roman Catholic establishment by his refusal to recant the great doctrines of Protestantism. It was also here that William Tyndale completed the printing of his English version of the New Testament in 1525 which he had begun in Cologne. After seeing St. Peter's Church and the symbolic Luther Memorial near the town square, we will stop in nearby Mainz for commentary and a picture of the Gutenberg Monument dedicated the German printing of the Bible. Our lodging this evening will be in Manheim.
Day 3: Heidelberg, Rothenburg, Romantic Road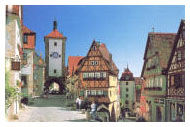 This morning, we travel on to one of the most charming cities in all of the world - Heidelberg, ancient capital of the Palatinate and home of Germany's oldest university. But most importantly, it was a stronghold of German Reformed Protestants beginning in 1560. One of the great confessional statements of the Reformation, the Heidelberg Catechism was produced here in 1563. Heidelberg Castle, a most impressive historic landmark of Germany, stands majestically overlooking the Neckar River. The structure, now largely in ruins, preserves numerous examples of Medieval, Renaissance, and Baroque German architecture. The afternoon adventure includes the panoramic "Romantic Road" with a visit to the best preserved medieval town in all of Europe, Rothenburg. We see the quaint Rathaus (town hall) with its tower and have free time for coffee and shopping in the many delightful shops. You may choose to visit on your own the Kriminal-museum, housing all manner of medieval instruments of torture. Our lodging for the next two evenings will be in Augsburg.
Day 4: Neuschwanstein Castle, Augsburg
This morning we travel into the Alpine region of Bavaria to the Rococo-style chapel in the Meadow and Ludwig II's most luxurious former residence, the Neuschwanstein Castle. In the afternoon, a walking tour of Augsburg, site of the Augsburg Confession, will bring to light the history behind much of our doctrine today. It was here in 1518 at St. Anne's Church that Luther met the papal legate, Cardinal Cajetan, who demanded that Luther submit to the pope. Augsburg was also the site of another Imperial Diet (1530) and in the town hall the Peace of Augsburg was signed in 1555 ending for a time the religious wars in Germany between the Catholics and the Protestants.
Day 5: Coburg, Erfurt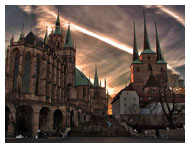 This morning we travel northward to view the fortress of Coburg known as Veste, the place of Luther's imprisonment in 1530. We visit the apartment where he stayed and continued his translation work, a chapel where he spoke and worshiped, and a gallery of period paintings. This afternoon we spend time in nearby Erfurt, where Luther attended the university. A highlight will be the Augustinian Monastery where he spent his early years as a monk and the famed doors that he closed on his protesting friends after saying "You can see me today, but never again." You will find it interesting and uplifting to hear how the studies here brought him to his understanding of scripture. Our lodging this evening will be in Erfurt.
Day 6: Erfurt, Eisleben, Leipzig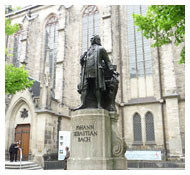 Leaving Erfurt, we visit Eisleben which is noted among the most significant in Luther's history; he was born here in 1483, died here in 1546 and old manuscripts indicate that he felt a special affinity to Eisleben. We will see the house of his birth and death, St. Andrews Church where he preached his last sermon, the Luther Monument, and St. Anne's Church with the famous Biblical scenes hewn in stone and many other sites. This afternoon we travel to the beautiful city of Leipzig, Bach's city, with free time and a visit to St. Thomas Church where Bach was choir master and organist. Our lodging this evening will be in Leipzig.
Day 7: Leipzig, Wittenberg, Berlin
We continue on the Reformation Trail today with a visit to Wittenberg where Martin Luther lived and taught for 36 years. You will see the Castle Church door area where Luther posted his 95 Theses, giving birth to the Reformation. This beautiful church is also the burial site of Luther. We see the university where Luther taught and the Luther House which is the greatest museum of Reformation History in the world with a detailed history display of his life and accomplishments, historical documents and an outstanding collection of period paintings of his life and family members. Our lodging for the next two evenings will be in Berlin.
Day 8: Berlin, Pergamon Museum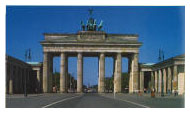 We enjoy a inspirational guided tour of this fascinating city including the Berlin Wall, Checkpoint Charlie, the Brandenburg Gate and many other sights. There will be free time this afternoon for shopping and sightseeing on your own. The highlight today will be a visit to the fabulous Pergamon Museum. One of the most popular attractions in Berlin, the Pergamon Museum is world famous for its archaeological holdings. The monumental highlights are truly breathtaking to behold, including the Ishtar Gate of Babylon from 6th century BC and the 2nd century BC Pergamon Altar. Also notable in this collection is the façade of the throne hall of King Nebuchadnezzar with artifacts from the earliest history of the written word, and an excellent collection of Islamic Art.
Day 9: Arrival in London, Hampton Court Palace
We transfer to the airport for our flight to London where we begin our tour at Hampton Court Palace. In 1604, James I commissioned the King James Version of the Bible during the Hampton Court Conference and we visit the room where it happened. In the Chapel Royal, we hear how Henry VIII's decision to allow production of the Bible was influenced by his last wife, Catherine Parr. After the tour we have time to stroll through the beautiful gardens and try and find our way to the center of the hedge maze. Our welcome meal is at our hotel this evening. Our hotel is in London for the next three nights.
Day 10: Westminster Abbey, Thames River Cruise, London Eye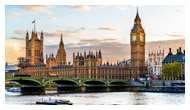 We begin our day at the magnificent Westminster Abbey where most British Kings and Queens since 1066 have been crowned and the final resting place of many monarchs, heroes and poets. In 2013, on the 50th anniversary of his death, C. S. Lewis will join some of Britain's greatest writers recognized here at Poets' Corner. Although not open to the public now, we will learn about historic events in the Jerusalem Chamber. It was used by the 17 men who translated the first third of the King James Bible Old Testament and the last half of the New Testament. Between 1644 and 1647, the Westminster Assembly met here to prepare the Westminster Confession of Faith. Next, we enjoy the "Changing of the Guards" at Buckingham Palace before a guided tour boat ride including all the sites along the Thames, concluding with a flight aboard the British Airways London Eye, the world's highest observation wheel offering amazing panoramic views of the capital city. The remainder of your day is free for shopping and sightseeing on your own…don't forget to stop by Harrod's. This evening our dinner will be on our own to be enjoyed at a local London restaurant of your choice.
Day 11: Spurgeon's Metropolitan Tabernacle, St. Paul's Cathedral, Bunhill Cemetery, Tower of London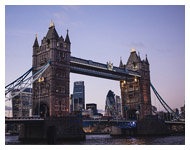 This morning we visit the Metropolitan Tabernacle, where the great Baptist preacher Charles Spurgeon (1834-1892) held his great revival meetings. He preached to as many as 6,000 people every Sunday, with copies of his sermons printed and distributed worldwide. During his lifetime he preached to an estimated ten million people. It's still a thriving congregation in the center of London. Next we visit St. Paul's Cathedral, a marvelous building designed by Sir Christopher Wren and recently renovated to its former splendor. This afternoon we'll enjoy a visit to Bunhill Cemetery where John Bunyan, Isaac Watts, John Gill and Susanna Wesley are all buried, before we tour the Tower of London, including the famous Crown Jewels.
Day 12: Salisbury, Stonehenge and Oxford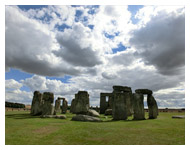 We depart London and make our way west to the Wessex area. Our first stop is in Salisbury for a visit to the famous cathedral. The builders of the gothic church claimed it to be "so great a church to the glory of God that those who come after us will think us mad even to have attempted it." Once again we are on our way to yet another wondrous sight, the Neolithic monument of Stonehenge which dates to around 2800 BC. Following lunch we turn northward to our lodging this evening in Oxford. The remainder of the day is free to stroll through this delightful town before dinner.
Day 13: Oxford, C. S. Lewis Tour, Stratford-upon-Avon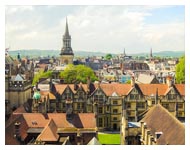 This morning, our local guide leads us on a tour of Oxford, including the Reformers Monument and the Cathedral. Famous Oxford alumni include: Charles and John Wesley, Lewis Carroll, William Penn, Albert Einstein, John Locke and C. S. Lewis who was later on staff. It was here that Lewis embraced Christianity, influenced by arguments with his Oxford colleague and friend J. R. R. Tolkien. He fought greatly up to the moment of his conversion, noting that he was brought into Christianity like a prodigal, "kicking, struggling, resentful, and darting his eyes in every direction for a chance to escape". We begin our C. S. Lewis Tour at the Headington Quarry Church, where Lewis attended and is buried. We also view the Kilns, house bought by C. S. Lewis, where he wrote "I never hoped for the like." We continue on to the Eagle and Child pub with it's rich and colorful history for lunch. By the 1930s, the pub became one of two gathering spots for Lewis and his literary-minded colleagues and friends known as the Inklings. This afternoon we depart Oxford and set out for the charming Cotswold region. Driving through the beautiful small villages with the rolling brooks and bridges we arrive in Stratford-upon-Avon to surround ourselves by the world's famous playwright Shakespeare. Upon arrival we view Anne Hathaway's Cottage and stop for a tour of Shakespeare's home in the picturesque village of Stratford-upon-Avon. This evening our lodging and dinner will be in Nottingham.
Day 14: Stratford, York, Edinburgh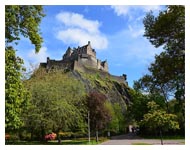 After breakfast we continue north to York. York today remains as a true representation of medieval England.  Taking a walking tour through these historic streets we arrive at York Minster, England's largest cathedral.  Inside you view the great stained glass window dating back to 1338 and reputably the size of a doubles tennis court.  After lunch we continue northward to our lodging for the next three nights in Edinburgh, the capital of Scotland.
Day 15: Edinburgh, Castle, St. Giles Cathedral, John Knox
This morning we enjoy a tour of Edinburgh which takes us to the historic sites of the Edinburgh Castle, the Queen's Holyrood Palace and points out the Royal Mile. We visit the 15th century house where John Knox, leader of the Scottish Reformation and founder of the Presbyterian Church, lived for a short time before he died. Today it is a museum that holds an exhibition about his life. We also visit St. Giles Cathedral to which Knox was appointed minister of the church and listen to the guides testimony of Knox's great personal sacrifice and the contribution of his powerful sermons. Free time will be allowed today for your sightseeing and shopping pleasure. Your evening is free to eat in one of the local restaurants.
Day 16: St. Andrews and Sterling Castle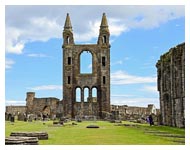 This morning we enjoy a morning tour of St. Andrews whose Royal and Ancient Golf Club, founded in 1754, has given us the rules of golfing. Stroll through the town, walk along the North Sea jetties that border the manicured fairways and visit the ruins of the cathedral, destroyed during the Reformation. This afternoon we enjoy a tour of Stirling Castle. Stirling is one of the largest and most important castles, both historically and architecturally, in Scotland. The castle sits atop Castle Hill, an intrusive crag, which forms part of the Stirling Sill geological formation. It is surrounded on three sides by steep cliffs, giving it a strong defensive position. Its strategic location, guarding what was, until the 1890s, the farthest downstream crossing of the River Forth, has made it an important fortification from the earliest times. Several Scottish Kings and Queens have been crowned at Stirling, including Mary, Queen of Scots, in 1542. There have been at least eight sieges of Stirling Castle, including several during the Wars of Scottish Independence, with the last being in 1746, when Bonnie Prince Charlie unsuccessfully tried to take the castle. We return to Edinburgh this afternoon and take part in a farewell Scottish dinner together with time to share with each other the highlights of our tour.
Day 17: Return Home
We fly out today with many fond memories.