Southern France 10 Day Tour
Year-round for groups
Click on the tabs for more information
Price Per person double occupancy
Dates
2016 - 2017
Request a quote or call 800-322-0788 for more information.
Price Includes: Lodging at 3-4 star hotels, breakfast daily, full time English speaking tour escort, services of air conditioned deluxe motor coach, all guides, entrances, touring and transportation as appears on itinerary, baggage handling at hotels (one piece).
Not Included: All lunches, dinners of your choice, tips to driver, guides, and hotel staff, optional travel insurance.
Deposit Required: $300 per person will reserve your place. A $100 service fee will be charged for cancellation at any time in addition to our normal payment and cancellation policy.
Day 1: Departure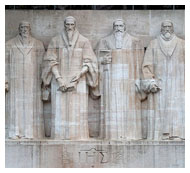 Overnight flight to Geneva.
Day 2: Arrive Geneva
Arrive in Geneva airport and transfer to the hotel. The remainder of the day is for you to rest or explore on your own with many beautiful things to see.
Day 3: Motorway of the Sun, Provence
We leave Geneva, enter France and continue to Lyon. Here, we will take route A7 (Autoroute du Soleil in French, or in English, Motorway of the Sun) to our host city, Orange, in the Provence region of southeastern France. This is one of the most rewarding and most visited parts of France. Dinner and overnight in Orange.
Day 4: Orange, Roman France
Today we will visit the charming city of Orange, renown as the "Gateway to the Provence" and also for its spectacular Roman monuments. We will see the Triumphal Arch, built in 10 B.C. with its fabulous reliefs and, of course, the well-preserved Roman Theatre that is still used today and most appreciated for its excellent acoustics. Following our guided city stroll, we will be able to visit the Arena for a fee. Then on to Pont du Gard, one of the best known landmarks of southern France, built around 19 B.C., as an aqueduct to carry water to Nimes, 25 miles away. This is the highest bridge ever built by the ancient Romans. Other highlights include a panoramic drive that takes us to the romantic wilderness of the Ardeche. We will also view the stone arch of Vallon-Pont-d' Arc.
Day 5: Medieval Avignon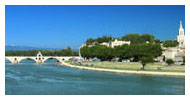 This morning, we will visit the city of Avignon, the ancient city of the popes. The city boasts one of the most beautiful medieval cities of France. A most spectacular memory will be Avignon's most famous bridge, St. Benezet Bridge, built in the 12th century over the Rhone River. Only four of its originally seventeen arches are still standing. After our guided visit, we will enjoy a scenic drive to the ruins of Les Baux de Provence set in a typical Provence landscape.
Day 6: Van Gogh's Arles, Camargue Natural Park
We begin with an excursion to Arles and the Camargue. Arles, a small town, lies on the edge of the Camargue's Natural Park. It is most famous for two things—its Romans ruins and its association with the painter Van Gogh. While living in Arles, Van Gogh painted over 300 pictures, including "Sun Flowers." We will have a guided city tour of Arles, including seeing the inside of the Roman Amphitheatre. Built between the 1st and 2nd centuries, it is a large round structure once used for gladiatorial competitions. Leaving Arles, we will drive through the Camargue's Natural Park, an area famous for its very attractive fauna (animals, birds, etc.) and flora (flowers and plants), amazing ponds and plains. The symbol for the Camargue is a cross for faith, heart for love, and an anchor for home. You will see this symbol quite often in this area.
Day 7: Mediterranean
We will stop in the Gipsy town of St. Maries de la Mer, which attracts people from all over the world and is famous for its folklore music. The fortress-like church in the center of town dates back to the 9th-15th centuries. From the roof of the church, there are excellent views of the town and of the Mediterranean Sea. At one of the churches, there are bells suspended in archways that play as the wind passes through the open spaces.
Day 8: Alpine France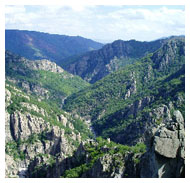 This morning, depending on weather conditions, we will drive over the legendary Mont Ventoux and are sure to be rewarded with a spectacular view into the Vaucluse and the Luberon mountains. We will drive on to Sault and our lunch stop in the charming small town of Fontaine de Vaucluse. Later in the afternoon, a photo stop will be made at the hilltop town of Gordes. Its castle was built in the 16th century. Before returning to our hotel, we will visit the old abbey of Senanque, which is set among the lush lavender fields.
Day 9: Cevennes National Park
Leaving Orange this morning, we will travel west-northwest through the Cevennes National Park. Today's tour highlight will be the scenic drive through the Tarn River gorge, one of Frances' most spectacular natural areas. Dinner and overnight in Geneva.
Day 10: Departure
We transfer to the airport early this morning for our flight home.