England Christian Heritage 8 Day Tour
Land of Wesley & Spurgeon
Click on the tabs for more information
Price Per person double occupancy
Dates
Request a quote or call 800-322-0788 for more information.
Price Includes: Lodging in 3 star & moderate tourist class hotels, 6 breakfasts, 3 dinners, all guides, entrances and transportation as appear on itinerary, services of long distance deluxe motorcoach as appears on itinerary.
Not Included: Airfare, tips (Suggested $9.00 per person per day), 3 dinners, lunches, optional Travel Insurance.
Deposit Required: $300 per person will reserve your place. A $100 service fee will be charged for cancellation at any time in addition to our normal payment and cancellation policy.
Day 1: DEPARTURE
Overnight flight for London.
Day 2: ARRIVAL, LONDON DRIVING TOUR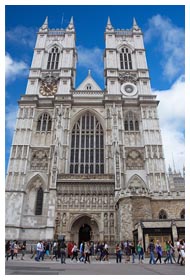 Upon arrival, our group will be taken on a driving tour of the thriving city on the Thames. We'll see some of the highlights of London such as Buckingham Palace, Big Ben, the Houses of Parliament and the Tower of London with the remainder of your day free. Our lodging for the next six nights will be in London.
Day 3: ST. PAUL'S CATHEDRAL, CHRISTIAN HERITAGE SITES, TOWER OF LONDON
Following breakfast we visit St. Paul's Cathedral, the largest church in the city. It is hailed as the seat of the Bishop of London and "parish church of the British Commonwealth". St. Paul's was designed by the famous architect, Christopher Wren. Next, we visit Wesley's Chapel on City Road, built in 1778. John Wesley's house/museum is right next door. He lived here from 1779 until his death in 1791. His burial place is behind the chapel. Across City Road is the non-conformist cemetery, Bunhill Fields, with the graves of Susanna Wesley, John Bunyan, Daniel Defoe and the hymn writer Isaac Watts ("When I Survey the Wondrous Cross"; "Come, Ye that Love the Lord"; "O God, Our Help in Ages Past"). Other highlights in this area include the charterhouse school where John attended and Spital Yard, home of the Annesley family where Susanna Wesley, youngest of 24 children, was raised. Our morning tour will conclude at the Metropolitan Tabernacle, were Charles Spurgeon held his great revival meetings. This afternoon's sightseeing is at the number one tourist attraction in London, the Tower of London. The stronghold reflects England's long history, presented in detail by the Beefeater guards, and houses the spectacular Crown Jewels.
Day 4: SALISBURY, STONEHENGE AND SOUTHAMPTON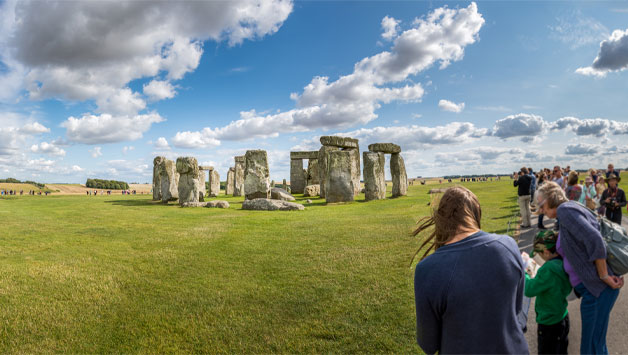 We begin our sightseeing with another wondrous sight, the Neolithic monument of Stonehenge which dates to around 2800 BC. At the Cathedral in Salisbury, we'll view the original copies of the Magna Carta of 1215 AD. Our next stop is in Southampton, where the Mayflower sailed from England in 1620. The town is also the birthplace of hymn writer Isaac Watts. We'll walk along the old city walls and through the same gate the Pilgrims used to board their ships. After a stop at the Mayflower Memorial, we continue back to London for the evening.
Day 5: OXFORD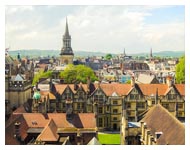 We travel northward to Oxford, where C.S. Lewis died in 1963. We'll be presented with a history of the 800 year old university at the Oxford Story and free time for lunch. This afternoon, enjoy a guided tour to view University College where C.S. Lewis was educated, Christchurch where John Wesley was educated, Lincoln College where he was a Fellow; and Balliol College where John Wycliffe studied before we return to London.
Day 6: CAMBRIDGE
A full day tour to Cambridge and area begins with a drive via Kulnudon, birthplace of Charles Haddon Spurgeon in 1834. We then continue to Colschester, where Spurgeon went to school, and Newmarket where he was an Usher at a school in 1849. At Cambridge, where Spurgeon finished his education and Wesley paid a visit in 1731, we enjoy a guided tour to view Magdalen College, where C.S. Lewis was a Fellow of English Literature and Professor of Medieval and Renaissance Literature in 1955. Afternoon Christian Heritage walk through the historic city centre which reveals Cambridge's contribution to the Reformation, its Puritan revolution, the development of modern science and the abolition of the slave trade. We will return to London for the evening.
Day 7: FREE DAY
Many sightseeing opportunities are available for your hotel or you may choose to go out on your own to shop, take in the theatre.
Day 8: HOMEWARD
Transfer to the airport for our return flight.