Best of The British Isles
14 Day Tour
Click on the tabs for more information
Price Per person double occupancy
Dates
Request a quote or call 800-322-0788 for more information.
Price Includes: All motor coach and land transportation, sightseeing, admissions, services of tour director and driver, lodging, meals as specified in tour itinerary, taxes, gratuities to bellhops and waiters at included meals.
Not Included: Cost of obtaining passports or visas, laundry, meals, beverages or sightseeing not included in the itinerary, travel insurance, gratuity to guide, driver, communication charges, & excess baggage fees. Port charges and gratuities to crew are not included on cruises.
Deposit Required: $300 per person will reserve your place. A $100 service fee will be charged for cancellation at any time in addition to our normal payment and cancellation policy.
Day 1: Departure from US
We depart today and enjoy our overnight flight to London. Dinner and breakfast will be served aloft.
Day 2: Arrival in London, England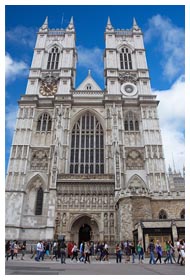 Upon our arrival, we will be met by our guide and immediately transported into the heart of one of the most historic cities, London. Upon arrival in the city we immediately have a short orientation tour followed by a boat trip down the Thames passing St. Paul's Cathedral, Sir Christopher Wren's wonderful Renaissance masterpiece, the Globe Theater and disembarking just before Tower Bridge. We travel across this world famous bridge, immortalized in a famous nursery rhyme, London Bridge, and travel for a visit to St. Paul's Cathedral. We spend time visiting the massive Cathedral before our hotel check in early this afternoon with the remainder of the day free before dinner and overnight at the hotel. (B,D)
Day 3: London & The Theater
Our sightseeing today will take us to Buckingham Palace to view the Changing of the Guard. We then travel onto Westminster Abbey, where English kings and queens have been crowned since 1066. We will visit the Royal Chapels, which hold the tombs of monarchs form past centuries. We pass by Big Ben as we travel to visit the Tower of London, one of London's oldest historical landmarks. Originally built by William the Conqueror as a fortress, this site has also served as a royal residence and a prison. See the White Tower, where prisoners such as Sir Walter Raleigh and Princess Elizabeth were held; the Crown Jewels; and St. John's Chapel, the oldest church in London. The remainder of the afternoon is free to explore on your own. This evening we have dinner at the hotel before you have the option to take in a show at one of London's famous *West End Theaters. (B,D)
Day 4: London - Stonehenge - Salisbury - Bath
This morning following breakfast we take a trip to England's mysterious Stonehenge, Britain's ancient monument more than 3000 years old. We continue west to Bath. We will include a visit to the Roman Baths, where we can marvel at the ingenuity of the ancient engineers who built them. We also see Bath Abbey, the location of the crowning of the first King of England. We travel east to Salisbury, a wonderfully preserved medieval town whose cathedral boast the highest spire in England. We will see the Magna Carta and climb the Cathedral Tower for a breathtaking view over this charming city. We return to Bath where before checking in to our hotel we have a brief drive around Bath viewing some of the architectural wonders of Bath, including Pulteney Bridge and the Royal Crescent. You are free in Bath this evening for dinner on your own. (B)
Day 5: Bath - Oxford - Stratford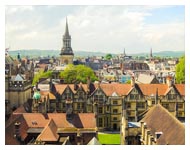 This morning we depart Bath and travel east to Oxford. This morning is free for time on your own in Oxford, England's oldest university city, famous for its medieval colleges, green quadrangles and dreaming spires. During your free time be sure to visit the several colleges, including Christ Church. We depart Oxford and set out for the beautiful Cotswold region. Driving through the beautiful small villages with the rolling brooks and bridges we arrive in Stratford-upon-Avon to surround ourselves by the world's famous playwright Shakespeare. Upon arrival we visit Anne Hathaway's Cottage. The remainder of the day is free to explore this town forever associated with famous playwright. We have dinner and overnight this evening in Stratford. (B,D)
Day 6: Stratford - York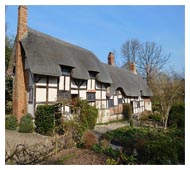 After breakfast we drive across England heading north to York. York today remains as a true representation of medieval England. As we take a walking tour through these historic streets we arrive at York Minster, England's largest cathedral. Inside you view the great stained window dating back to 1338 and reputably the size of a doubles tennis court. As York remains one of the top destinations to visit in Northern England we give you the remainder of the day free. Explore the many streets and shopping areas throughout the old city. With motor vehicles prohibited in the old city section, York boasts a wonderful setting to immerse yourself in the culture, or take in an additional site as Clifford's Tower, the Jorvik Viking center, Yorkshire Museum and much more. This evening we return to our hotel for dinner and overnight. (B,D)
Day 7: York - Durham - Edinburgh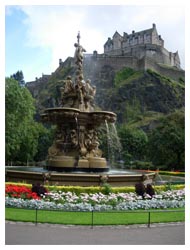 After hotel breakfast we continue north to Scotland. We make a stop in the historic city of Durham. The close proximity of the castle, cathedral and ancient university, surrounded by a loop of the River Wear, makes this medieval treasure one of the loveliest cities in England. After a visit to Durham Cathedral we will continue to Chesters Fort on Hadrian's Wall, the defensive boundary the Romans built to mark the northernmost point of their empire. At Chesters, the gateways, headquarters buildings and barrack blocks of the Roman fort can all be traced. There are also the remains of a bath house. The remainder of the day is spent resting as our motorcoach treks north through the countryside en-route to Edinburgh, the capital of Scotland. We arrive and have dinner and overnight in Edinburgh. (B,D)
Day 8: Edinburgh
We have morning sightseeing with a local expert who introduces you to the 200-year-old New Town and famous scientists, inventors and novelists. In the Old Town, drive up the narrow Royal Mile to Edinburgh Castle to admire Scotland's Crown Jewels, then explore Holyrood Palace, the Queen's official Scottish residence. The afternoon is free to enjoy this "Prince of Cities" at your own pace. Later, the guide will aid those who chose a unique optional experience: board the former Royal Yacht Britannia, which for the Queen was once the perfect royal residence for glittering state visits and family holidays. Tour five decks and see how the Royal Family and crew of 240 lived and worked on board. Free time for dinner rounds off this optional evening. One option for dinner tonight is a Scottish evening with Highland dancers, bagpipers, and the Ceremony of the Haggis. (B)
Day 9: Edinburgh - St. Andrews - Pitlorchy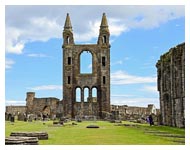 We leave Edinburgh, traveling north and inland to Pitlorchy. En-route we make a stop in St. Andrews. Immortalized for its famous golf course, St. Andrews is also known as Scotland's oldest university town. We visit the British Golf Museum for a history of the famous game. Those not interested will have the opportunity to explore the three main streets and numerous cobbled alleys full of crooked house fronts and shops. We travel to Pitlorchy, famous as a resort, named by Queen Victoria, and is a good example of Scottish life. We visit nearby Blair Castle. This rambling, turreted castle has been altered and extended so often in its 700-year history it portrays a perfect example of Scottish aristocratic life. We return to Pitlorchy with the greater part of the day free to walk the town and shop. We have dinner and overnight in Pitlorchy this evening. (B,D)
Day 10: Scottish Walk - Inverness
Today we venture into nature. For those interested, just north of Pitlorchy we have a nature walk along the Killiecrankie trail. In an area famous for its scenery and historical connections, this walk is fairly flat following the River Garry, meandering through a wooded gorge and crosses one of Queen Victoria's favorite Highland areas. Those who do not walk are free to rest and further explore all that Pitlorchy has to offer. We then set off north, winding through the Highland's many gorges. We arrive in Inverness. Inverness is the capital of the Highlands and our panoramic bus tour includes many sights of importance to the history of this Highland city. We view the Inverness Castle, the Town Hall with its eloquent architecture and the city center before having dinner and overnight at our hotel. (B,D)
Day 11: Inverness - Loch Ness - Fort William - Oban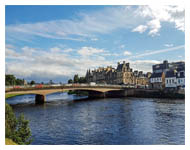 This morning we begin as investigators as we search for the Loch Ness Monster beginning with an expedition along the shores of the Loch. If we are unsuccessful in our sighting, our visit to the Loch Ness Monster Museum provides photographic evidence to challenge the skeptics. En route to Oban, our tour of the Highland scenery ends in the shadow of Ben Nevis, the highest mountain in Britain, at the village of Fort William. After spending time walking Fort William's High street, with a wealth of culture and shops, we travel south for dinner and overnight in the coastal town of Oban. (B,D)
Day 12: Isles of Mull & Iona
Following breakfast we board a ferry, which will take us to the scenic Isle of Mull, then on to the Isle of Iona. On Iona we will discover the first Christian monastic settlement in Scotland, built in the 6th century by St. Columba, whose missionary journeys resulted in the extension of Christianity all over Europe. After spending time enjoying the history and scenery on the isles, we return to Oban for dinner and a second overnight in Oban. (B,D)
Day 13: Oban - Trossachs - Stirling - Glasgow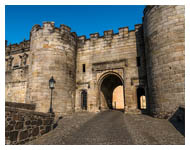 After breakfast we continue through the historic Trossachs, where the rugged scenery inspired Sir Walter Scott to write "The Lady of the Lake" and also provided the setting for the bandit hero, Rob Roy. Our day ends with a visit to the Battlefield of Bannockburn and a view of Stirling Castle, where Mary was crowned Queen of Scots. We visit this impressive Castle atop a volcanic outcrop before venturing into Glasgow and our final dinner and overnight in the British Isles. (B,D)
Day 14: Departure from Glasgow
Your experience ends as your Tour Manager/ Guide accompanies you to the airport for the return flight home. (B)