Best of Britain 8 Day Package
Call For Group Pricing
Click on the tabs for more information
Price Per person double occupancy
Dates
Request a quote or call 800-322-0788 for more information.
Ask About Special Rates for Pastors, Christian Educators, & Custom Groups of All Sizes. No Obligation Group Quotation - Click Here
Click here for "Frequently Asked Questions"
Price Includes: All motor coach and land transportation, sightseeing, admissions, services of tour director and driver, lodging, meals as specified in tour itinerary, taxes, gratuities to bellhops and waiters at included meals.
Not Included: Cost of obtaining passports or visas, laundry, meals, beverages or sightseeing not included in the itinerary, travel insurance, gratuity to guide, driver, communication charges, & excess baggage fees. Port charges and gratuities to crew are not included on cruises.
Day 1: Depart USA For London
Overnight flight for London.
Day 2: Tower of London, Crown Jewels, & St. Paul's Cathedral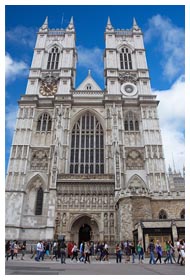 Upon arrival, our group will be taken on a sightseeing tour of the thriving city on the Thames. We'll see some of the highlights of London such as Buckingham Palace, Big Ben, the Houses of Parliament and the Tower of London. After a visit to two of the city's most beautiful churches, Westminster Abbey and St. Paul's Cathedral, we return to our hotel for dinner. Overnight London (2 nights).
Day 3: London of the Wesley's and Spurgeon, Windsor Castle
We'll begin at Wesley's Chapel on City Road, built in 1778. John Wesley's house/museum is right next door. He lived here from 1779 until his death in 1791. His burial place is behind the chapel. Across City Road is the non-conformist cemetery, Bunhill Fields, with the graves of Susanna Wesley, John Bunyan, Daniel Defoe and the hymn writer Isaac Watts ("When I Survey the Wondrous Cross"; "Come, Ye that Love the Lord"; "O God, Our Help in Ages Past"). We continue on to the Methodist Plinth, the site of John's Aldersgate Street conversion on May 24, 1738. Other highlights in this area include the charterhouse school where John attended and Spital Yard, home of the Annesley family where Susanna Wesley, youngest of 24 children, was raised. Our morning tour will conclude at the Metropolitan Tabernacle, were Charles Spurgeon held his great revival meetings. This afternoon we drive to Windsor Castle, majestically standing on a chalk cliff and dominating the skyline with its rugged walls and Round Tower. William the Conqueror built both the castle and Tower of London in 1078 as fortresses guarding against attacks from the Thames River. Windsor has been a royal residence since 1110 when Henry I made it his home. We continue through Windsor Great Park to Runneymede, where the signing of the Magna Carta took place in 1215. At Hampton Court Palace, residence of many former kings and queens of the British Empire, we'll tour the gardens, lake and mazes.
Day 4: Salisbury, Stonehenge, Bath and Bristol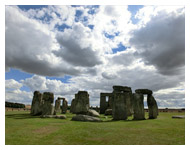 Upon arrival we are met by our guide and board our motor coach. Our first stop is at Salisbury for a visit to the famous cathedral. The builders of the gothic church claimed it to be "so great a church to the glory of God that those who come after us will think us mad even to have attempted it." Once again we are on our way to yet another wondrous sight, the Neolithic monument of Stonehenge which dates to around 2800 BC. Following lunch we head to Bristol where we'll visit Broadmead and John Wesley's chapel. After a visit to the home of Charles Wesley and the Portland Chapel, we visit the fascinating town of Bath. Since the 1st century AD, the steady flow of hot mineral springs has made it a fashionable spa resort for the early Romans and later, the British monarchs. The ancient remains of the city are the finest preserved Roman ruins in Great Britain. Overnight Bristol (1 night).
Day 5: Stratford-Upon-Avon
Our day begins with a stop at Glouchester. The town has been known for its markets since Roman times and is an inland port on the River Severn. We'll visit the small church of St. Mary de Crypt where Robert Raikes launched the "Sunday School" movement and an early women's missionary movement had its beginnings. It was also from here that George Whitefield, the most outstanding preacher of his generation, lit the fires of evangelical revival. We'll complete our visit to Gloucester at its magnificent cathedral, one of the finest in England and considered the sixth most beautiful building in all of Europe. Founded in 1089 as a monastic church, the cathedral features ancient pillars, exquisite stained glass windows and a great cloister. Our next stop will be in Blandon, the burial place of Winston Churchill, before we continue on to overnight in the delightful village of Stratford (2 nights).
Day 6: Stratford-Upon-Avon, Hathaway Cottage and Gardens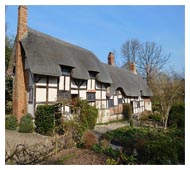 A full day of sightseeing in Stratford includes visits to the beautiful buildings connected with William Shakespeare and his family . We'll visit Anne Hathaway's impeccably preserved thatched cottage and gardens. At the Harvard House, we will hear the history of the founder of the famous American university. Other Shakespearean sights include a visit to Mary Arden's house (the Bard's mother), and New Place where the writer retired in 1610. Our final visit of the day is at Shakespeare's birthplace. This evening we'll attend a performance of the Royal Shakespeare Company.
Day 7: Warwick Castle, Wedgwood and Chester
The sights of Warwick Castle and the world-famous Wedgwood China Factory will add to the excitement today before arrival in Chester this afternoon, with the remainder of the day at your leisure. Stroll the medieval streets past black and white timbered buildings, seek out the preserved Roman wall and enjoy time for shopping. Other noteworthy attractions include the Abbey Square and 16th century Chester Cathedral. Overnight in Chester (1 night).
Day 8: Homeward
We transfer to the Manchester airport for our flight to the USA.