Israel & Palestine
Imagine Pilgrimage to Israel/Palestine
13 Day Tour | April 6-18, 2024
Reservation Form (PDF)
Online Reservation
Insurance Info
Click on the tabs for more information
Price Per person double occupancy
Date
Price
Single
Supplement
April 6-18, 2024
$3,250*
$4,750**
$1,235
*Land Only Tour Price
**Land & Air Tour Price

Final tour price will be determined by number of passengers. Group must reach at least 20 passengers with a maximum of 40.

Reservation Due: December 28, 2023
Final Payment Due: February 6, 2024
Included
Roundtrip airfare (airport TBD) including taxes and fees, (air taxes and fuel surcharges are subject to change), 11 nights lodging at 4-star hotels, Breakfast & dinner daily at hotels, 1 St. Peter's Fish Lunch, Full time English-speaking tour guide, Services of long-distance deluxe motor coach as appearing on itinerary, All entrances and transportation as appearing on itinerary, Porterage at hotels (1 piece), 1 group arrival transfer and 1 group departure transfer, Whisper/Listening devices, Tips to drivers, guides, and hotel staff, Pilgrim Payment Processing for check, Visa, MasterCard or Discover
Not Included
All lunches and drinks with meals except as noted in itinerary, Optional Travel Insurance – 6.9% or 9.3% of tour cost for PA, 6.5% or 8.7% for NY (rates current as of quote date)
Saturday & Sunday, April 6-7 - Departing flight to Tel Aviv; arriving the next day
• A partial day of touring; then enjoy a swim in the ocean or a walk on the beach
• Overnight in Netanya on the shore of the Mediterranean Sea
Monday, April 8- Coast of Sharon and Jezreel Valley

• Caesarea's Roman Theater, Herod's Palace, Hippodrome, Crusader Fortress, Agora and Aqueducts – Ancient harbor created by Herod the Great; visited by Peter (Acts 10) and Paul (Acts 23-24)
• Mount Carmel – Elijah confronts the prophets of Baal (1 Kings 18)
• Megiddo – The most strategic city in the Jezreel Valley and center of countless conflicts (1 Kings 9:15)
• Mount Arbel – An overwhelming first look at the whole region of the Sea of Galilee
• Overnight in Tiberias at the Sea of Galilee for 3 nights
Tuesday, April 9 - Lower Galilee and Sea of Galilee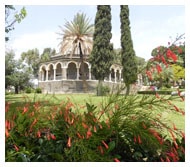 • Nazareth Village – A "must see" re-creation of a first century village in the land which illustrates many customs and culture to make the tour more meaningful
• Korazin – Jesus cursed this city for their unbelief (Matthew 11:20-24)
• Mount of Beatitudes – Jesus' powerful teaching on Galilean hillsides (Matthew 5-7)
• Church of the Primacy of St. Peter – After the resurrection, Jesus questions Peter's love for Him (John 21)
• Capernaum – The hub of Jesus' ministry in the Galilee (Matthew 4:13-16)
• Nof Ginosar – Museum of a first century fishing boat found in the Sea of Galilee
• Magdala – Home of Mary Magdalene which was known as a bustling fish market
Wednesday, April 10 – Northern Galilee & Jordan River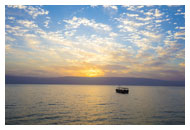 • Tel Dan – Jeroboam erects an altar and golden calf to worship (1 Kings 12:26-31)
• Caesarea Philippi – In this place of pagan worship, Jesus asks the twelve a life-changing question: But who do you say that I am? (Matthew 16:13-20)
• Hippos – One of the Greek Decapolis cities; most likely the region where Jesus encountered the Gerasene demoniac (Mark 5:1-20)
• Yardenit – A site developed for those who desire to be baptized in the Jordan River [NOTE: We only stop here if someone wants to be baptized]
• St. Peter's Fish Lunch – Fresh delicious tilapia in a unique lakeside restaurant
• Evening boat ride/worship service on the Sea of Galilee– a night you'll never forget!
Thursday, April 11 - Rift Valley and Judean Wilderness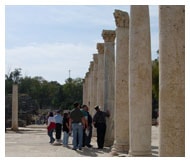 • Bet She'an – One of the land's oldest known cities, civilizations were built layer upon layer because of its important location (1 Samuel 31)
• Harod Spring – Gideon and his army camped at this spring (Judges 7:1-22)
• Wadi Qelt – Brings the parable of the Good Samaritan to life (Luke 10:25-37)

• Jericho – A "march" around the ruins to see where the walls collapsed (Joshua 6) • Qasr al-Yahud – The closest point to where Jesus was baptized (Matthew 3:13-17)
• Mount of Olives Overlook of Jerusalem – Your first panoramic look at the Old City
• Overnight in Jerusalem near the Old City for the remainder of the tour
Friday, April 12 - Judean Wilderness at the Dead Sea
• Masada – Herod the Great's mountaintop fortress and palace
• En Gedi – David found refreshment and safety in this oasis (1 Samuel 23:14, 29)
• Qumran – Ancient Essene community and caves where Dead Sea Scrolls were found
• Dead Sea – Everybody can float in the Salt Sea (Numbers 34:3,12)
Saturday, April 13 – Jerusalem
• Temple Mount – Where Solomon's Temple was built, Herod the Great's Temple once stood on this site now occupied by Islam's Dome of the Rock (2 Chronicles 3)
• Church of St. Anne – A Crusader Church with incredible acoustics
• Pools of Bethesda – Jesus heals a man who was paralyzed for 38 years (John 5:1-17)
• Palm Sunday Walk – retrace the path of Jesus for His triumphal entry into the city (Matthew 21:1-11)
• Church of Pater Noster – The traditional site where Jesus supposedly taught the disciples "the Lord's Prayer"
• Church of Dominus Flevit – Jesus wept over the city of Jerusalem (Luke 19:41-42)
• Garden and Grotto of Gethsemane – Jesus and His disciples often stayed in this olive grove while near Jerusalem (Mark 14:32-36)
• Kidron Valley – anyone entering or departing Jerusalem or the Temple Mount from the east had to cross this Valley (2 Samuel 15:23)
• Church of St. Peter in Gallicantu – Jesus was taken to the house of Caiaphas the high priest after His arrest (Matthew 26:57-75)
• Church of the Holy Sepulcher – Under one roof, this Church is the location of Golgotha and the tomb where Jesus was buried (Matthew 27:32-61)
• Free time for exploring/shopping in the Old City
Sunday, April 14 - Jerusalem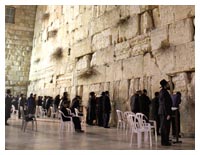 • City of David – David's fortress and palace, southeast of today's Temple Mount
• Warren's Shaft – David's soldiers defeated the Jebusites by entering the city through this water shaft (2 Samuel 5:6-10)
• Hezekiah's Tunnel – King Hezekiah defends Jerusalem from the Assyrians by protecting their water source from the Gihon Spring (2 Chronicles 32)
• Pool of Siloam – Jesus heals a blind man & affirms His deity (John 9)
• Davidson Center and Jerusalem Archaeological Park – the original southern staircase entrance to the Temple and remnants of the Temple Mount's destruction in 70 A.D. are clearly visible at the southwest corner
• Western Wall – The most holy site of prayer for practicing Jews is this exposed portion Herod the Great's retention walls for his expanded Temple Mount
• Western Wall Tunnels – Underground tunnels traveling north of the Western Wall
• Gordon's Calvary – Garden Tomb Communion Service (1 Corinthians 11:17-32)
Monday, April 15 – Bethlehem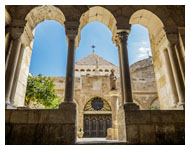 • Church of the Nativity – The grotto where Jesus was born (Luke 2:1-7)
• Shepherd's Caves – Shepherds used these caves to protect their flocks (Luke 2:8-20)
• Bethlehem Bible College – Tour, Lecture and Gift Shop
Tuesday, April 16 – Judea
• Tuesday Temple Mount Sifting Project – Today, you become an archaeologist!
• Hebron – Machpelah is where Abraham, Isaac & Jacob are buried (Genesis 23)
• Tel Maresha/Beit Guvrin – An underground city, hiding in plain sight (2 Chron. 11)
• The Valley of Elah – The legendary battlefield for David & Goliath (1 Samuel 17)
Wednesday, April 17 – Jerusalem & Joppa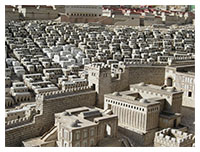 • Last minute shopping in the Old City of Jerusalem
• Herod's Family Tombs
• Israel Museum – Home to priceless artifacts from biblical sites across the land; the Model of Jerusalem, a scale model of Jerusalem in the Second Temple Period, and the Shrine of the Book, exhibits of the Dead Sea Scrolls
• Joppa – The ancient seaport where Jonah boarded a ship (Jonah 1) and Solomon imported the cedars of Lebanon (2 Chronicles 2:16)
• Farewell Dinner before departing for Ben Gurion Airport
Thursday, April 18 Return home with a heart full of memories
Itinerary subject to change while touring for the best interest of the group.