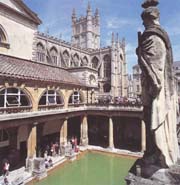 Wesley Footsteps & Britain's Best
(9 Day)
Group Package available year-round
---
Day 1 Depart USA For London
Day 2 Bedford, Olney, Northampton
Upon arrival in London we are met by our escort and transferred to our hotel in Northampton. Traveling north through the English countryside, we arrive in Bedford. It was here that John Bunyan wrote the greatest English allegory, "Pilgrim's Progress". After a visit to Elstow's Moot Hall, a short drive takes us from Bedfordshire to Buckinghamshire and the village of Olney. Here two famous hymn writers lived. We'll visit the home of William Cowper, author of "God Moves in Mysterious Ways His Wonders to Perform" and "There is a Fountain". Afterwards we'll visit the Parish church where the hymns "Amazing Grace", "How Sweet the Name of Jesus Sounds", and "Glorious Things of Thee are Spoken" were written by John Newton. At the end of his seafaring days, Newton was rector at this church. Our overnight lodging is in Northampton.
Day 3 Coventry, West Bromwich And Stratford
This morning we travel the M1 motorway to Coventry. The town's modern Cathedral rises out of the ruins of the edifice destroyed in November, 1940. We'll pause by the silent charred cross bearing the words "Father Forgive". Our next stop is West Bromwich, a suburb of England's second largest city, Birmingham, and boyhood home of Francis Asbury. We'll visit the four room cottage of homemade brick where Asbury studied his Bible by candlelight and unwittingly prepared for 45 years of glorious service in America. As we travel through Warwick, we'll pass the massive 14th century castle which dominates the ancient country town on the Avon before arriving at Stratford-Upon-Avon. In this town of Shakespeare, we'll tour the cottage and gardens of Anne Hathaway and visit Shakespeare's birthplace. Following dinner we'll attend a performance of the Royal Shakespeare Company at the Memorial Theater.
Day 4 Bladon, Oxford, Cheltenham, Gloucester And Bristol
Our day begins with a stop at Bladon, the burial place of Britain's greatest statesman, Sir Winston Churchill. Afterwards we travel to the university town of Oxford, "City of Dreaming Spires". Here at Lincoln College we can imagine the young John Wesley intensely presiding over the Holy Club which consisted of a group of students called "Methodists". While in Oxford we'll also visit Christ College where John graduated in 1724. Leaving Oxford we drive through Cheltenham, a spa town of Regency excellence and continue on to Gloucester. The town has been known for its markets since Roman times and is an inland port on the River Severn. We'll visit the small church of St. Mary de Crypt where Robert Raikes launched the "Sunday School" movement and an early women's missionary movement had its beginnings. It was also from here that George Whitefield, the most outstanding preacher of his generation, lit the fires of evangelical revival. We'll complete our visit to Gloucester at its magnificent cathedral, one of the finest in England and considered the sixth most beautiful building in all of Europe. Founded in 1089 as a monastic church, the cathedral features ancient pillars, exquisite stained glass windows and a great cloister (its fan vaulting is the earliest in England). The effigies on the tombs are outstanding, particularly the wooden effigy of Robert, Duke of Normandy and the alabaster effigy of King Edward II. Late this afternoon we arrive in Bristol, much frequented by the Wesleys, for dinner and overnight.
Day 5 Bristol, Bath, Salisbury, Stonehedge And London
We'll attend a worship service this morning in the oldest Methodist chapel in the world, which was built in 1739. The chapel is where many of Charles Wesley's 6,500 hymns were first sung. Following a visit to Wesley's house (now a Methodist museum), we drive to the city of Bath, England's oldest spa (2,000 years old). We continue to Salisbury where we'll have lunch and visit a cathedral with the loftiest spire in England. Time permitting, we'll stop at the Methodist church and small museum. It was in Salisbury that Francis Asbury served as a Methodist preacher for a time before leaving for America. This afternoon we drive across the Salisbury Plain to the pre-historic site of Stonehenge, a mysterious ring of ancient stone monoliths constructed by the Druids in 1700 BC. Afterwards we are London bound, our home for the next four nights.
Day 6 London - Wesley History
This morning we'll visit the interesting Methodists sights in this bustling city along the Thames. We'll begin at Wesley's Chapel on City Road, built in 1778. John Wesley's house/museum is right next door. He lived here from 1779 until his death in 1791. His burial place is behind the chapel. Across City Road is the non-conformist cemetery, Bunhill Fields, with the graves of Susanna Wesley, John Bunyan, Daniel Defoe and the hymn writer Isaac Watts ("When I Survey the Wondrous Cross"; "Come, Ye that Love the Lord"; "O God, Our Help in Ages Past"). We continue on to the Methodist Plinth, the site of John's Aldersgate Street conversion on May 24, 1738. Other highlights in this area include the charterhouse school which John attended and Spital Yard, home of the Annesley family where Susanna Wesley, youngest of 24 children, was raised. We'll stop at Westminster Central Hall, a Mecca for Methodists from around the world, for lunch. This afternoon we'll see some of the highlights of London such as Buckingham Palace, Big Ben, the Houses of Parliament and the Tower of London. After a visit to two of the city's most beautiful churches, Westminster Abbey and St. Paul's Cathedral, we return to our hotel for dinner and overnight.
Day 7 Epworth, Scrooby And Nottingham
A long ride north brings us to the County of Lincolnshire and the "Fen District" of East England. At Epworth we'll visit the birthplace of John and Charles Wesley, the Epworth Rectory, the Wesley Memorial Church and St. Andrew's Parish Church. It was at St. Andrew's where the Reverend Samuel Wesley served for 39 years and where John preached outdoors by his father's grave. In the hamlet of Scrooby in Notthinghamshire we'll see the cottage of William Brewster where he and William Bradford and other adventurers listened to Pastor Richard Clyfton preach. It was from Scrooby that the escape from England was planned which ultimately led to spending a few years in Holland and finally the voyage of the Mayflower in 1620. This afternoon we head for Nottingham and its famous castle (remember the Sheriff of Nottingham?). If time permits we'll stop briefly in the Sherwood Forest to see Robin Hood's great oak tree and visitor's center. We return to our hotel in London for overnight.
Day 8 Windsor Castle & London Theatre
Today is our last full day in one of the great capital cities of the world. This morning we drive to Windsor Castle, majestically standing on a chalk cliff and dominating the skyline with its rugged walls and Round Tower. William the Conqueror built both the castle and Tower of London in 1078 as fortresses guarding against attacks from the Thames River. Windsor has been a royal residence since 1110 when Henry I made it his home. We continue through Windsor Great Park to Runneymede, where the signing of the Magna Carta took place in 1215. At Hampton Court Palace, residence of many former kings and queens of the British Empire, we'll tour the gardens, lake and mazes. Back in London we'll have time for last minute sight-seeing or shopping at Harrods in Knightsbridge. Tonight we'll attend a performance of Agatha Christie's thriller "The Mousetrap" at the London West End Theater. The play opened in 1953 and is the longest running in the history of the theater.
Day 9 Depart London For USA