Our expedition will begin in charming Ushuaia in Tierra del Fuego, then we'll sail through the Drake Passage to the Antarctic Peninsula. Our plans include a call at thermal Deception Island and a visit to the penguins at Port Lockroy. Escorted by icebergs - and a team of Antarctic experts - we'll navigate stunning Neumayer Channel and Paradise Harbor to Half Moon Island, where whales often patrol the shores.

We'll round Cape Horn where the Atlantic and Pacific meet. Ahead lies some of the most phenomenal - and surprising - geography in all the world, beginning with the Patagonian coast of Chile. Here, we'll cruise to magnificent Seno Eyre Fjord. Further north, beautiful Puerto Montt is our gate-way to an entirely different landscape: a lake region of alpine villages in thick forests framed by towering volcanic peaks. Here pristine lakes shimmer in shades of emerald green, sapphire blue and luminous gray.

From the narrow, twisting streets of Valparaiso, where we disembark, we'll travel inland to Santiago. Our two-night visit and city tour gives us time to explore this historic city with its venerable churches and backdrop of snow-capped Andes. Climb to the top of Serro Santa hill and discover gardens, fountains and charming walkways. Visit the superb pre-Columbian museum. Shop for a Chilean specialty, lapis lazuli. And toast your grand adventure with Chile's acclaimed wines.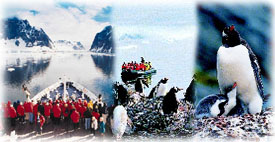 *Price includes advance purchase discount. Port charges, taxes and air add-ons are additional. Not combinable with other promotions. Fare valid only in USD.
MARCO POLO
February 11
Day
Port
Arrive
Depart
Feb 11
Fly to Miami, FL
(transport to airport hotel)
Feb 12
Depart Miami
Feb 13
Arrive Ushuaia, Argentina
(transfer to the Marco Polo)
Cruise Schedule
Feb 13
Ushuaia
embark
8:00pm++
Feb 14
Drake Passage
Exact itinerary
and ports of
call depend on
ice conditions,
weather and
wildlife.
Feb 15
Bransfield Strait
Deception Island
Feb 16
Lemaire Channel
Port Lockroy
Feb 17
Port Lockroy
Paradise Harbor
Neumayer Channel
Feb 18
Half Moon Island
Feb 19
Cape Horn
cruising
Feb 20
Cruise Beagle Channel
Feb 21
Cruise South Pacific Ocean
Feb 22
Seno Eyre Fjord, Chile
7:00am
3:00pm
Feb 23
Cruise South Pacific Ocean
Feb 24
Puerto Montt, Chile
7:00am
6:00pm
Feb 25
Cruise South Pacific Ocean
Feb 26
Valparaiso, Chile
disembark
Post-Cruise Santiago
Feb 26
Santiago, Chile
(sightseeing; transfer to hotel)
Feb 27
Santiago
(day at leisure)
Feb 28
Fly Santiago/USA
+Passengers from Florida depart one day later
++Depending on tides
Free Miami Stopover
To minimize the chance of missing international flights due to inclement weather, passengers who purchase Orient Lines air add-ons will overnight at a Miami airport hotel en route to South America. (Note: does not apply to passengers from Florida gateways or to those with optional pre-cruise extensions.)