Israel
Join Trinity Lutheran Church on a:
12 Day Tour | June 13-24, 2024
Reservation Form (PDF)
Online Reservation
Insurance Info
Click on the tabs for more information
Price Per person Based on Double Occupancy and minimum of 20 passengers
Date
Price
Single
Supplement
June 13-24, 2024
$5,009*
$1,300
*Includes airfare from Detroit.

Reservation Due: February 29, 2024
Final Payment Due: April 12, 2024
Included
Roundtrip air from Detroit including current air taxes and fuel surcharges (taxes and fuel charges are subject to change), 10 nights lodging at 4 star hotels, breakfast and dinner daily, full time English speaking tour escort, services of air conditioned deluxe motor coach, all guides, entrances, touring and transportation as appears on itinerary, baggage handling at hotels (one piece), tips to driver, guides, and hotel staff
Not Included
All lunches, optional travel insurance (7.95% or 10.85% of tour cost)
Day 1:
Overnight flight from Detroit.
Day 2:
Arrive in Israel and transfer to the hotel in Tel Aviv.
Day 3:

Visit to Caesarea, Megiddo, and Mt. Arbel (overlook) and Magdala. Overnight in Galilee for 3 nights.
Day 4:
Visit to Dan, Caesarea Philippi, Gamla, Bethsaida, Chorazin, and Capernaum.
Day 5: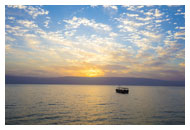 Visit to Tel Hazor, Nazareth Village, Nof Ginosar Museum (ancient boat), and Sea of Galilee cruise.
Day 6:
Visit to Beit Shean, Gan Hashlosha, Qasr El Yahud, Wadi Qilt, and the Dead Sea. Overnight at the Dead Sea.
Day 7:
Visit to Masada, Ein Gedi, Qumran Caves (movie and ruins), and Bethlehem (Lutheran Church, Church of Nativity, olive wood store). Transfer to Jerusalem for 5 nights.
Day 8: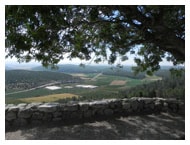 Visit to Elah Valley, Tel Azekah, and Beersheba (Tel Gezer if time allows). Return to Jerusalem.
Day 9:
Visit to Mount of Olives (overlook), Garden of Gethsemane, Western Wall, Rabbinical Tunnels, and Israeli Museum.
Day 10:
Visit to Temple Mount (walk around platform), Southern Steps, St. Ann's Church, Pool of Bethesda, David's tomb, House of Caiaphas, and Sanhedrin Tombs. Time for shopping in Old City.
Day 11: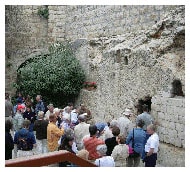 Visit to City of David (with Hezekiah's Tunnel), Via Dolorosa (including Church of the Holy Sepulcher), Judgement Hall of Pilate, and Garden Tomb (with communion).
Day 12:
Flight home.
Itinerary subject to change while touring for the best interest of the group.