Best of Israel
12 Day Inspirational Tour
A Journey Through Biblical History
Reservation Form(PDF)
Pilgrim Policies
Insurance Info
Click on the tabs for more information
Price Per person double occupancy
Dates
Land Only
No Transfers
Single
Supplement
2016
October 30 – Nov. 10
$2,209
$909
Information & Reservations:
David Schaeffer | 800-322-0788 | dschaeffer@pilgrimtours.com
Price Includes: 9 nights lodging at four star Israel hotels, breakfast and dinner daily at hotel, 3 lunches as appear on itinerary (day 3, 6, & 7), farewell dinner on day 11, full time professional English speaking tour guide, all entrances as appear on itinerary, baggage handling at hotels (1 Bag), tips to guides, drivers and hotel staff, transportation in deluxe air conditioned motor coaches.
Not Included: Airfare, all lunches, except as listed on itinerary & drinks with meals, optional travel insurance, optional credit card payments (additional 3% of total bill)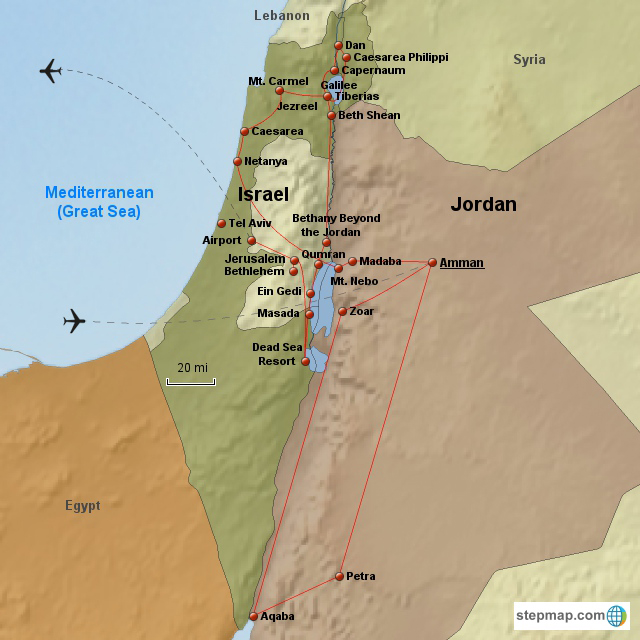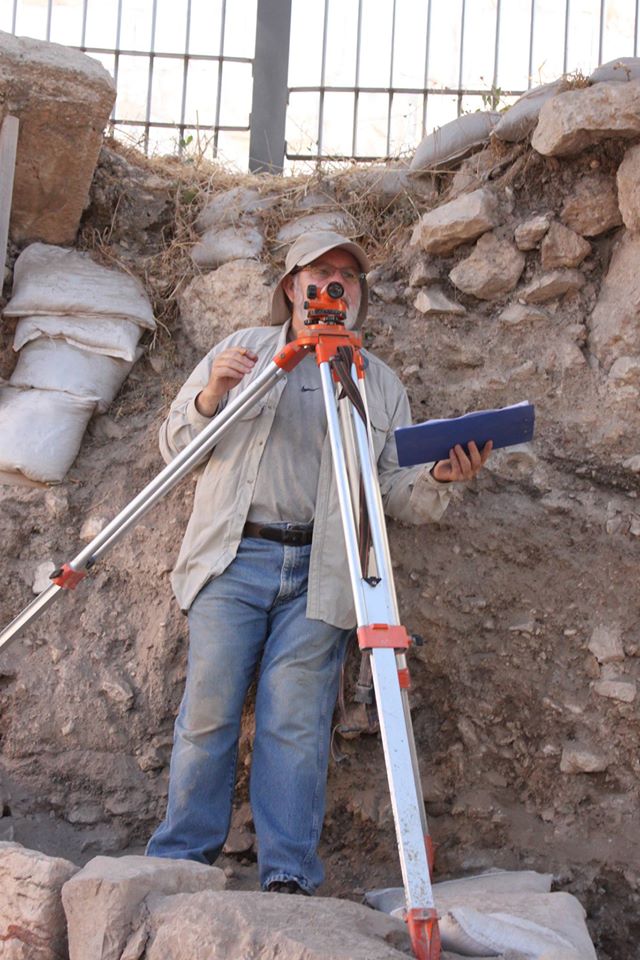 Why should you select this tour of Israel?
This tour is designed to introduce you to Jesus, the Patriarchs, and the Prophets, putting events at the sites we visit in their physical, historical, and Biblical context. It is a Journey of Faith, all Christians of any denomination are welcome to walk with us. It will take you to peasant homes, palaces, fortresses, temples and towns from Scripture.
Your tour leader will be Harry Gullett; a retired US Marine Corps Lt Colonel, former Associate Professor of Military History at UNM, a retired Industrial Engineer, and volunteer surveyor on archeological digs in Israel. He has been a student of history and archeology for over 40 years, with 20+ years teaching the Old Testament to New Testament believers. Fellow travelers say he can show you a "pile of rocks" and make the stories from the Bible come to life.
Click on the days below for more information.
Day 1: Sunday, October 30, 2016: Departure
Depart Newark (EWR) Sunday afternoon via El Al.
Day 2: Monday, October 31, 2016: Arrive Tel Aviv, Caesarea, Mt. Carmel, Haifa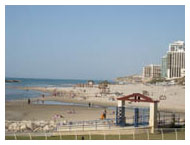 Arrive Tel Aviv ~ 6:50 am. Transfer to our bus to Caesarea Maritime & aqueduct (Roman, Byzantine & Crusader site), lunch on your own by the sea, bus to Carmel Ridge (Elijah), Hotel Leonardo Haifa for a swim, dinner & rest.
Day 3: Tuesday, November 1, 2016: Jezreel Valley, Nazareth, Sea of Galilee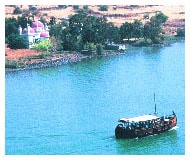 Megiddo, Nazareth Village (lunch included), Sepphoris (Jesus may have been a construction worker in this city), view the Horns of Hattin, Magdala Synagogue (Mary Magdalene) Hotel Ramot.
Day 4: Wednesday, November 2, 2016: Gadarenes Cliffs, Bethsaida Plain, Mt Bental, Banias, Tel Dan, Mt of Beatitudes
Gadarenes Cliffs , Bethsaida Plain (feeding 5000), Mt Bental (Valley of Tears Battle, 1973), Banias (Caesarea Philippi, Peters Confession), Tel Dan (Abraham & the divided kingdom), Mt of Beatitudes, Hotel Ramot.
Day 5: Thursday, November 3, 2016: Sea of Galilee and Baptism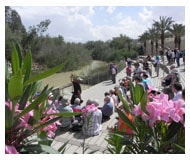 Capernaum (Peter's house, White Synagogue), Chorazin, Tabgha (feeding 4000), Lunch at Ginnosar (lunch on your own), Jesus boat & Galilee boat ride, Baptism at Yardenit. Hotel Ramot.
Day 6: Friday, November 4, 2016: Beth Shean, Shiloh, Jordan Valley, Dead Sea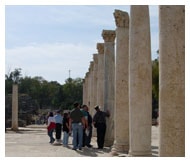 Beth Shean, Shiloh (tabernacle site) box lunch provided, drive the Jordan River Valley & Dead Sea to Dead Sea Float at David Resort Hotel in Ein Bokek.
Day 7: Saturday, November 5, 2016: Masada, Ein Gedi, Qumran, Mt of Olive's Overlook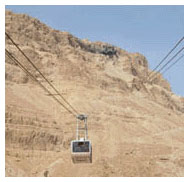 Desert Day – Masada, Ein Gedi (David flees from Saul), picnic at the waterfall in Ein Gedi (box lunch provided), Qumran (Dead Sea Scrolls), drive to Mount of Olive's Overlook for a first view of the Old City of Jerusalem. Grand Court Hotel.
Day 8: Sunday, November 6, 2016: Hill Country of Judah and Israeli Museum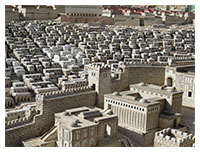 Ein Karem (John the Baptist), Tel Azekah (David & Goliath), Tel Beth Shemesh (Ark returns from the Philistines), Modern Beth Shemesh (Lunch), Zorah (Samson's village), Israeli Museum (1st Century Model of Jerusalem, Shrine of the Book, Archeology displays) Jerusalem. Grand Court Hotel.
Day 9: Monday, November 7, 2016: Jewish Quarter of Jerusalem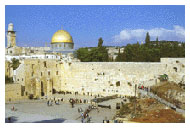 Dung Gate; Temple Mount (conditions permitting), Western Wall Tunnel, Western Wall Prayer, Southern Temple Steps and Davidson Institute. Jewish Quarter; Lunch near the Cardo (lunch on your own), shop in Jewish Quarter, Hezekiah's defensive wall, Temple Institute, Wohl Museum. Exit Armenian Quarter. Optional night walk in Jerusalem. Grand Court Hotel.
Day 10: Tuesday, November 8, 2016: Around Jerusalem with Jesus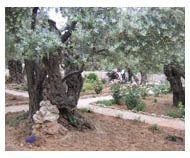 Mount of Olive's overlook, Gethsemane, Lion's Gate, St. Anne's, Via Dolorosa, Lithostrata Roman Road & cisterns, Greek Orthodox Dungeon of Antonia Fortress, walk the Via Dolorosa to the Church of the Holy Sepulcher, exit Joppa Gate, bus to Garden Tomb. Grand Court Hotel.
Day 11: Wednesday, November 9, 2016: Yad Vashem, Bethlehem, Farewell Dinner, Departure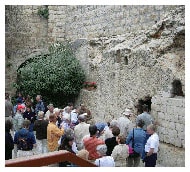 Hezekiah's Tunnel (Optional); load bags on the bus depart for Yad Vashem (Holocaust Museum), Bethlehem & the Shepard's Fields (conditions permitting), group dinner on the way to the airport, arrive three hours before departure for a long flight home.
Day 12: Thursday, November 10, 2016: Arrive home
Arrive Thursday, early morning ~6 AM EDT Newark (EWR).
Important Note: Although the itinerary above obviously emphasizes the spiritual aspect of this marvelous country, our guides are also experts in and passionate about the miracle of the return of the Jews and the restoration of the state of Israel. This fact, along with many modern day topics (military, politics, education, and other cultural aspects), will be woven into the commentary in order to give you well rounded information.